Flag Day is a special day that takes place on June 14, which commemorates the adoption of the flag of the United States. June 14, 2021, was also a special day in Eden Prairie, Minnesota when the Olympic Hills Golf Course hosted its first Tee It Up for the Troops fundraising event honoring American military veterans.
Board Chair of Tee It Up for the Troops, Tom Groom, and his wife, Heidi, spearheaded the inaugural charity golf tournament. Tom, Heidi, and their committee of volunteers surpassed all goals set for the special day of golf on Flag Day in honor of veterans and their families.
"Veterans continue to deal with PTSD, thoughts of suicide, and other invisible wounds of war. We are 100% committed to continuing the mission to provide our American Heroes with as much support as they deserve," said Tom. "We are deeply grateful for the service of the military personnel and their families, and we are thankful for all the sponsors and supporters that came out to make this such a successful event."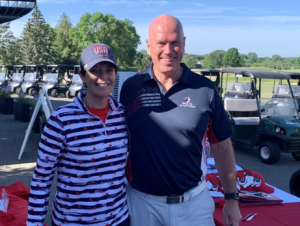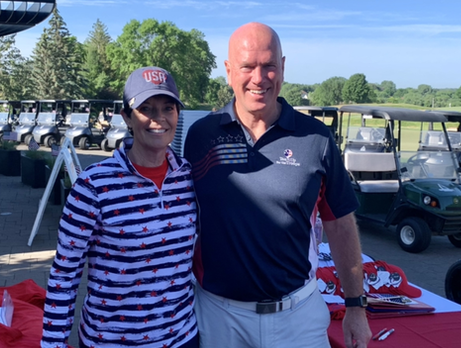 Say A Fallen Soldier's Name
A patriotic opening ceremony kicked off the event complete with T-6 Thunder planes performing a flyover. Veterans and Gold Star Families were honored during the ceremony. A Gold Star Family has lost an immediate family member in the line of duty of military service. Ceremonies like this give a chance for fallen soldiers' legacy to live when their names are spoken and remembered.
Brothers in Arms Surprise Connection
Andrew Bachelder, a USMC veteran who was injured in a Huey helicopter crash in Afghanistan in 2009, was the guest speaker for the opening ceremony. Bachelder, a five-time participant in former President George W. Bush's Warrior Open, came all the way from Fort Worth, Texas for the event.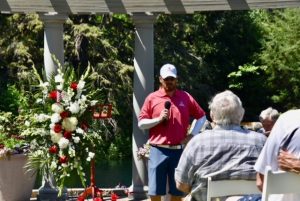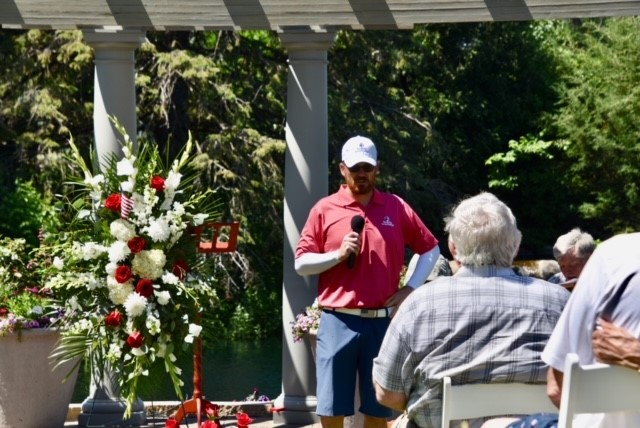 Right before Andrew spoke, the Gold Star families were introduced. As the event MC began to honor the first fallen warrior and his family, Andrew heard the words "… Fallujah, Iraq… April 4th, 2004." "My ears perked up and my attention was definitely keener of what was coming next because I was there that day," said Andrew. "Then the MC read off CPL. Tyler Fey's name and I almost fainted. I was in his platoon and we were together the night that he was killed." Andrew, event coordinators, and the families being honored did not know that these two warriors, with an important and emotional connection, would cross paths this day.
"When Tyler's name was called, I was in shock and couldn't think of anything other than his father who was sitting in the first row right in front of me," Andrew said. "I had never met Tyler's parents. I was overwhelmed with joy that I could make this connection and I know Mr. Fey was very moved as well. I know it can be healing and heartfelt for families of lost loved ones when you see one of your sons' brothers in arms." Like a true soldier, Andrew was able to pull himself together from this revelation and shock and deliver a powerful message to the audience. Following his speech, Andrew and Mr. Fey shared a very emotional hug and greeting. A seemingly chance encounter that had great meaning for one Gold Star father and one warrior. Tee It Up for the Troops is proud it can help paths like these cross for purpose.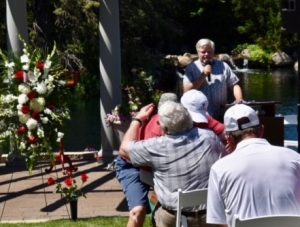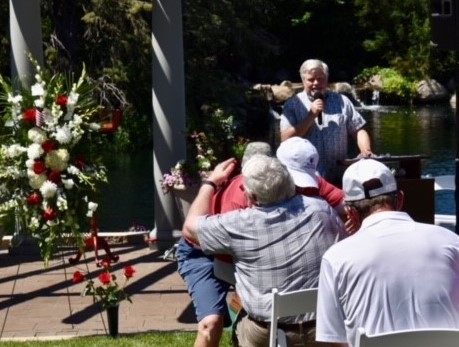 Players Tee Off and Raise Funds
There was great energy and fun once the players hit the golf course. Thanks to the generous support of corporate and individual sponsorship, wounded warriors get a chance to golf at these events. Here is what one warrior said about his experience at the Olympic Hills Charity Golf Event:
"I just got home from one of the most amazing events I have ever been a part of! I had so much fun and I was with the most amazing group of guys! I learned so much from them and their support for the troops and Tee It Up for the Troops was amazing!! It's been a while since I felt like a real person, being able to step out of my comfort zone and enjoy life and sports once again! I can't wait to be a part of the next event! Thank you so much for thinking of me!"
The Tee It Up for the Troops Olympic Hills charity event raised money and awareness for combat veterans. Proceeds from the golf event will benefit the REUNION program which reunites wounded and injured service members who have been separated due to battlefield injuries or other reasons beyond their control.
Forty-seven percent of all post 9-11 veterans say it was difficult to transition back to civilian life. As a result of diagnosed PTSD, veterans have challenges with financial stability, problems with adequate medical care, and struggles with alcohol or drugs.
Through the Tee It Up for the Troops REUNION, participating veterans and their caregivers can enhance their transition process into civilian lifestyles and enjoy therapeutic time on the golf course and participate in some educational, healing breakout sessions.
Get Involved and Make a Difference
Thank you to the Olympic Hills Golf Club members, staff, sponsors, and all the volunteers who made this an amazing charity event. Tom and Heidi Groom hosted one incredible event!
If you or someone you may know would like to honor our veterans, fundraise for a wonderful cause and start a Tee It Up for the Troops event on Flag Day or any day of the year, please visit Start An Event.
Your support for our American heroes helps them get back on course and gives them the best chance of success once they've come home!