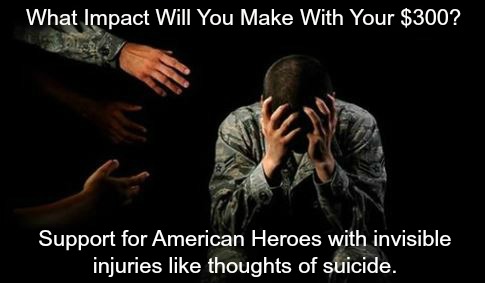 Have you heard the numbing statistic that 22 veterans succumb to suicide every day in the United States? This staggering statistic does not even include the impact of the COVID-19 crisis, which has hit our veterans tremendously hard, intensifying their personal battles with the invisible wounds of war.
At Tee It Up for the Troops, we are making a difference and we are asking for your help. Through the nearly 550 golf charity events help since 2005, Tee It Up for the Troops has granted over $11 million to provide critically needed services to veterans and their families. This year, due to the coronavirus outbreak, we have had to cancel many charity events and are faced with losing critical fundraising dollars we would normally use to support our American heroes.
Unfortunately, the needs of our combat veterans have not been canceled. These men and women volunteered and fought for our freedom and they are not getting the services they need. We believe we can and should do better by them and are asking for your help to be able to do so.
As the end of the year approaches, we hope we can count on you to support Tee It Up for the Troops and military families. Especially during these difficult times, we hope you will donate now and help us fight for those who fought for us!
Donate before January 1 and Qualify for the CARES Act Charitable Contribution Deduction
If you are looking to support a cause that is near and dear to our military and veterans, you can support Tee It Up for the Troops and take advantage of this qualifying charitable contribution. This special pandemic tax deduction is set to expire on Dec. 31, 2020. Donate online today at https://teeitupforthetroops.org/donate
Thank you for your consideration and support!