We are thrilled to announce that Imperial, voted the #1 headwear brand for all public, private and resort golf facilities by the Association of Golf Merchandisers (AGM), has become a national sponsor for Tee It Up for the Troops.
"Imperial is very proud of its partnership with Tee it Up for the Troops," said David Shaffer, Senior Vice President of Sales at Imperial. "Doing our part to honor, remember, and support all those who serve(d) in the Armed Forces is something that is very important to us."
Tee It Up for the Troops is a national non-profit organization dedicated to supporting programs that deliver critical services to help veterans from all eras heal and transition from the battlefront to the home front. Tee It Up for the Troops provides support for six critical areas of need for veterans and their families: Golf and Sports Rehabilitation, Suicide Prevention, PTSD and Traumatic Brain Injuries, Employment, Housing/Homelessness, and Family/Caregiver Support.
Tee It Up for the Troops has hosted over 600 golf events in more than 40 states over the last 17 years, allowing the non-profit organization to donate $12.8 million to military service organizations that provide critically needed services to combat veterans and their families. Our dedicated national sponsors help us achieve this goal.
In addition to sponsoring event headwear, Imperial commits to quarterly donation disbursements to Tee It Up for the Troops with a portion of the proceeds from a branded collection of headwear benefiting the non-profit organization.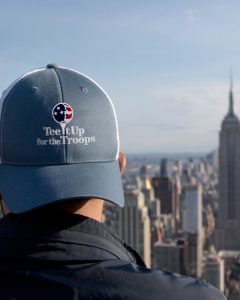 "Tee It Up for the Troops is honored to partner with Imperial, a brand with inspiration for trending and customized golf hats," says Tim Wegscheid, President and Executive Director of Tee It Up for the Troops. "Imperial consistently 'steps up to the tee' and stands by our side as we collaborate in support of America's veterans and military families. Thanks to Imperial for teaming up with us as a national sponsor to provide hats and visors to our many golf event sponsors and supporters across the country!"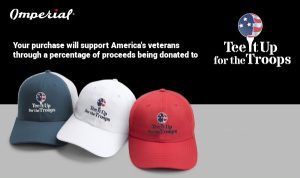 Shop for Tee It Up for the Troops headwear HERE and a portion of all proceeds will go to Tee It Up for the Troops and their pursuit of helping veterans heal!
About Tee It Up for the Troops
Tee It Up for the Troops, Inc, is a national 501(c)3 non-profit organization that serves U.S. military veterans and their families. Established in 2005, Tee It Up for the Troops has hosted over 600 events in over 40 states and has donated $12.8 million to partnering organizations serving veterans across the country. In addition, through their REUNION initiative, Tee It Up for the Troops has reunited more than 300 combat altered veterans who were separated due to battlefield injuries or changes in rehabilitation status. For more information visit: Tee It Up for the Troops.
About Imperial Headwear
Founded in 1916, Imperial Headwear is the leading manufacturer of premium quality headwear, apparel, and accessories for the golf market. Imperial's products can be found at 97 of the Top 100 and over 70% of the Top 400 golf courses in the United States. Imperial is committed to style, functionality, and perfection in fit and comfort. It is this commitment that has allowed the creation of a wide variety of headwear and apparel with quality that is second to none. Renowned for its superior customer service and art customization capabilities, Imperial offers its products using the most innovative fabrics and designs, as well as logo decoration and embellishment technologies. For more information, visit: Imperial.
Media Contacts:
Theresa Johnson
Tee It Up for the Troops
Communications Specialist
theresa@teeitupforthetroops.org.
Tori Cole
Imperial Sports
Marketing Manager
Tcole@Imperialsports.com