In 2012, Tee It Up for the Troops began a special program reuniting service members who had lost contact with one another to help with healing the invisible wounds of war. The program, REUNION, uses golf and workshops as a basis for a rehabilitative three-day event based at the Reunion Resort and Golf Club in Kissimmee, FL. When the REUNION program takes place annually, combat service members, veterans, and caregivers need flights to attend.
Fisher House Foundation's Hero Miles Program makes it possible for service members and their caregivers to attend this event each year.
Since the program began, Hero Miles has provided 416 airline tickets, saving $436,017 for participants.
"We believe that we must all come together and bring our strengths to help these men, women, and their loved ones who are struggling," said Fisher House Foundation Chairman and CEO Ken Fisher. "Different organizations have their own focus, but when we come together, we can make an even bigger difference."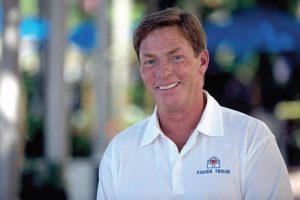 Fisher House Foundation's Hero Miles program uses donated frequent flyer miles to purchase tickets bringing military and veteran families to their injured or ill loved ones while they are receiving treatment. Hotels for Heroes uses donated hotel loyalty points to provide a hotel room when there is not a Fisher House nearby. Both Hero programs also support other nonprofits that are helping military and veteran families through their healing journey.
Many of the attendees of REUNION are Purple Heart recipients who have been injured while overseas. A considerable number have traumatic brain injuries or suffer from post-traumatic stress or both. Nearly all still struggle with what they have been through.
"What keeps us coming back is the strong desire to be around my military brothers and sisters. Combat creates such a strong bond and sharing their camaraderie is such an important need in my life," said Navy veteran Mark Little, who attended once before. "The military was my life for 30 years and I have so much to be thankful for. I'm positive that I couldn't have made it through without them covering my back. I don't know where I would have ended up without their support and the military shaping my life."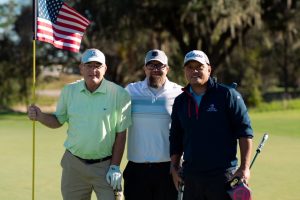 "Tee It Up for the Troops has been extremely blessed to have the support of the Hero Miles program throughout all ten years of our REUNION outreach program," said Tim Wegscheid, President and Executive Director. "The REUNION program reunites combat veterans who were separated due to battlefield situations. We bring these battle buddies back together from locations across the U.S.A. Due to the important role of Hero Miles in providing flights to these deserving heroes, it allows us to allocate more funding toward additional reunions, including their caregivers, and providing enhanced programming. The positive ripple effect of the Hero Miles support is endless, and we are extremely grateful."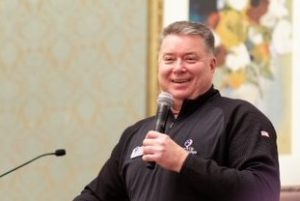 Veterans from Vietnam to the most recent conflicts attended REUNION with their spouses. Throughout the weekend, there were events for both veterans and their caregivers. Along with golf, there were discussion sessions and events. Caregivers participated in a yoga workshop and other activities. Participants from both groups worked with the nonprofit CreatiVets to write songs about their experiences.
"The caregiver sessions mean so much to me because I am with other women who get it. These women have all been through a lot themselves, but they are all always so welcoming and strong," said Jessica Lacy, who attended with her husband, Army veteran Mike. "It never feels awkward being in a room full of ladies, most of whom you've never met — it feels more like family. There is an unspoken bond, and it's always great to break bread and share stories. There are always plenty of tears and laughter, but my heart is always full when I leave a REUNION weekend."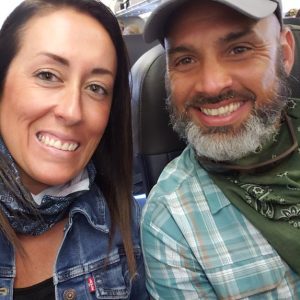 For the ten-year reunion, many of the attendees from previous years were invited back. Mike Lacy, who has attended REUNION four times, explained why returning is important.
"What keeps bringing us back is the environment created by Tee it Up for the Troops," explained Mike. "Their hearts for veterans and what golf can do to rehabilitate a veteran in need both mentally and physically is immeasurable. We love to be a part of that. It's a safe space where people understand the challenges that this life has presented, and truthfully, it's a great reminder and recharge that anything can be overcome, and you are not alone."
Fisher House Foundation has been a tremendous partner to Tee It Up for the Troops and does amazing work to help veterans and their caregivers in the most challenging of times. On behalf of all of us at Tee It Up for the Troops and the military veterans themselves, we'd like to give a heartfelt thank you to the Fisher House Foundation which is responsible for the Hero Miles and Hotels for Heroes programs.
If you would like to get involved in our program that reunites combat warriors and changes lives for veterans and their families, check out REUNION.