Extraordinary Woman, Notre Dame Alumnus, and Tee It Up for the Troops Combat Veteran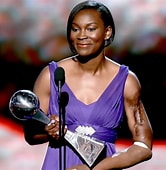 What's important to note about Danielle Green is that she knew exactly what she wanted early on. Her childhood dreams included basketball, Notre Dame, and the military.
Born in 1977 and raised on Chicago's South Side, Danielle grew up in a poor environment. Her mother was a single mother who struggled with substance abuse, her father was absent, and she relied on her grandmother, coaches, and school personnel for guidance. Playing basketball at different gyms and outdoor locations as an 8-year-old young girl was a way out.
Determination and Childhood Dreams
Green's journey is a true testament to what can happen when you decide to train, commit, sacrifice, and really work at something so you know how to respond when under pressure. Whether it be basketball, the military, recovering from injury, or now golf, Green says "you have to keep working at it, practice because you don't always know what's going to come your way, so you have to be ready."
That determination and training ethic earned her a scholarship to play basketball at Notre Dame. Standout Danielle Green was a left-handed guard for Notre Dame from 1995 to 2000 and during that time was the 17th all-time high scorer for the Notre Dame Fighting Irish. Danielle was coached and mentored by Notre Dame's Hall of Fame Muffet McGraw.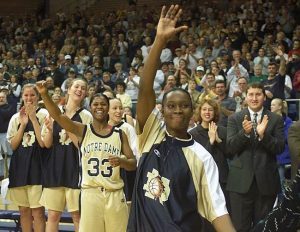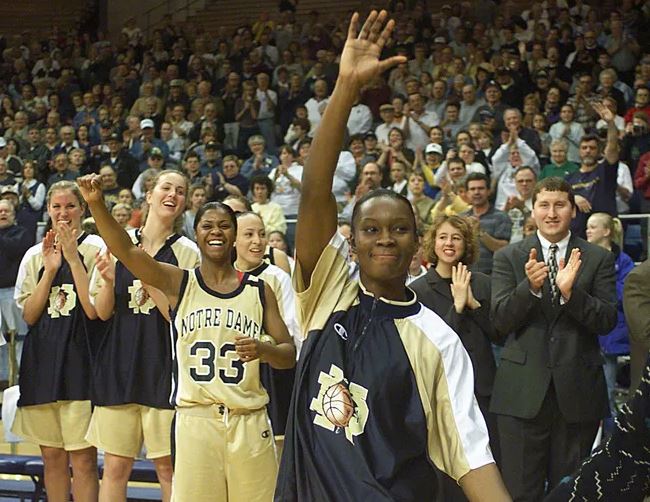 After graduation, Green moved back to Chicago and began a teaching and coaching career where she met her husband, Willie Byrd, a high school basketball coach. In 2003, Danielle felt the need to serve her country, despite war looming, and fulfilling that last childhood dream. So she joined the United States Army in 2003. She enlisted as an E-4 with the Military Police. In 2004, she was deployed to Iraq.
A New Chapter in her Story
Atop a police station she had been helping to guard in Iraq, Green remembers something whizzing by her and landing two stories below her almost hitting the parked Humvees. The next rocket hit Green; severely wounding her. "When the rocket hit me, I became angry because I was not ready to die. I thought I had so much more to give and I wanted a child, said Green. "I said a prayer, I felt reassurance and hope, and a burst of energy. Then my comrades came and performed their duties amicably. While in the Green Zone, Danielle was awarded the Purple Heart and she was also told that her hand with her wedding rings was found on several inches of sand.
Soon after the attack, she was transferred to a hospital in Germany for stabilization. Danielle's left arm was blown off during the rocket attack. A natural left-hander, she now had only her right hand to use. She had suffered other injuries as well, and a lengthy rehab to face. It was a challenging time. "I had to try and figure out how to redo everything I had done left-handed. But you have to learn to adapt, learn to adjust to your environment. Finding purpose and passion in life was important to Green. You have to keep working by putting one foot in front of the other," said Green.
Building Confidence Through Sports
Sports are so much more than just a game. Sports played a significant role in Danielle's rehabilitation. Really pushing yourself to compete means finding confidence. And being confident brings a feeling of being fully alive. "I first played golf in college with two of my basketball coaches and a teammate," said Green. "However, I really started to take a liking to golf while I was at Walter Reed recovering from my wounds. Once I returned home in 2005, my husband and I started taking lessons and attending events to meet other warriors and individuals."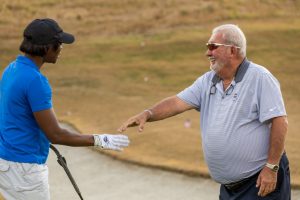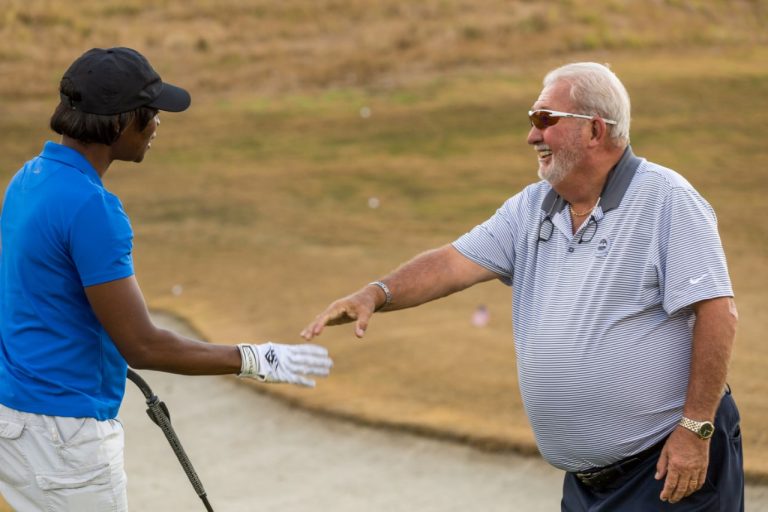 The transition to learning golf was seamless for Green. "The two sports that I played right-handed when being naturally left-handed, were golf and softball. I really enjoy these two sports now along with tennis with my 7-year-old son Daniel." Daniel is the blessing that she prayed for in Iraq 10 years earlier. The biggest adjustment was finding the right adaptive equipment to allow her to play comfortably.
The Benefits of REUNION
Danielle has attended Tee It Up for the Troops REUNION (a program that reunites combat veterans and uses golf as a basis for rehabilitation) for several years. "The very first REUNION that I attended followed the passing of my husband, Willie, in 2011," Green said. "The event took my mind off my recent loss and allowed me to connect with warriors who I had not seen since 2005 at Walter Reed Hospital. The next REUNION events I attended were in 2014 and 2018, in hopes of staying connected with other veterans, meeting old and new friends, meeting other female veterans, networking, and improving my game. REUNION is one of the few opportunities that I have to be with a community of veterans with common experiences."
Golfing and Feeling "Alive"
"My prosthetic arm gives me the ability to function as an able-bodied person just like most individuals on the course," Green said. "I do not think about what I lost; I think about competing to the best of my ability. The ability to engage and find comfort with others on the course is what makes me feel alive."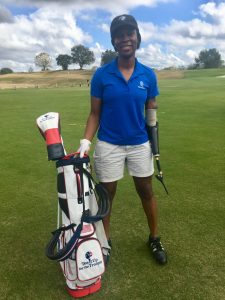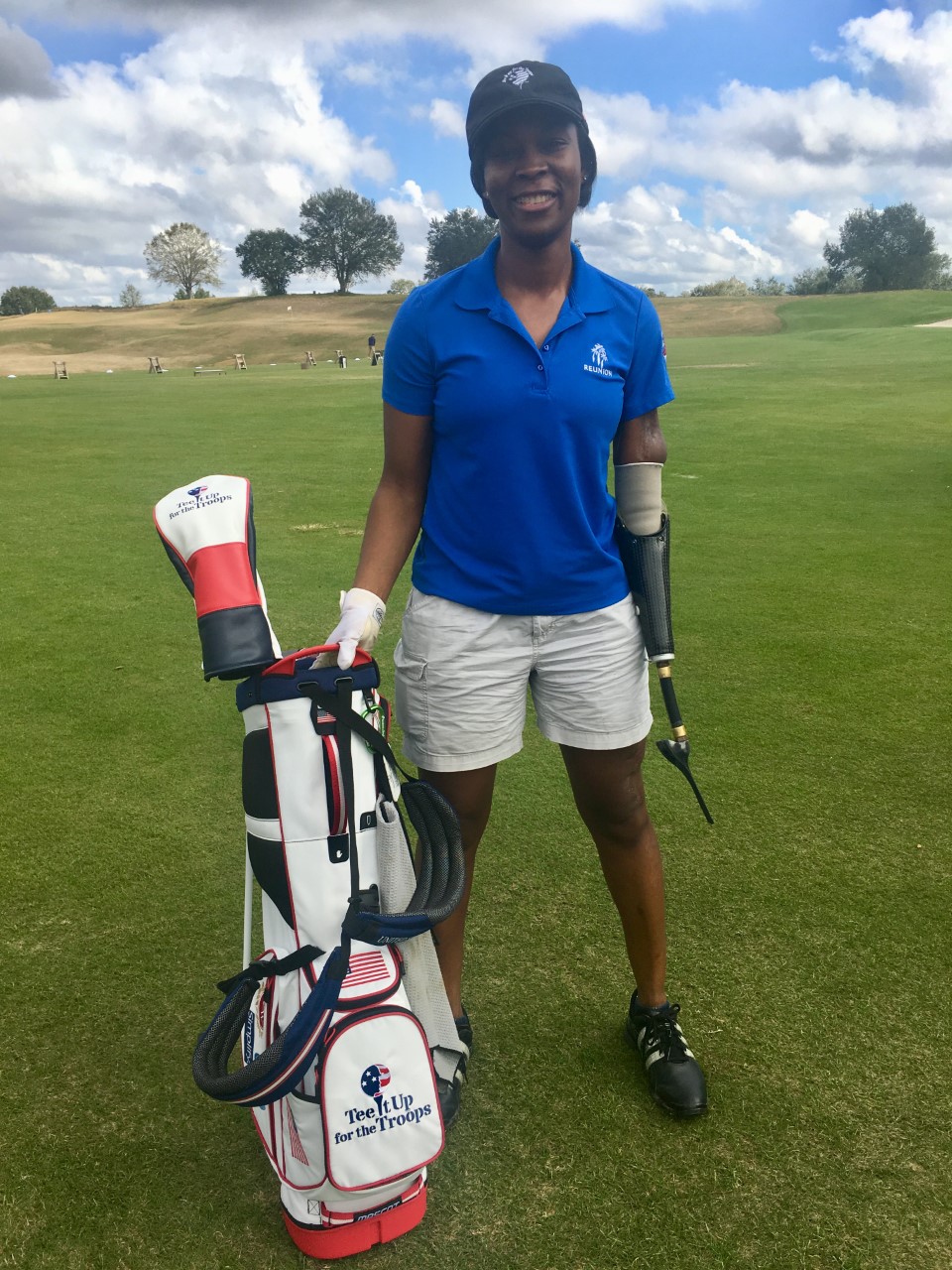 The sport of golf means a lot to Green. "The game of golf gives me hope. The game of golf reminds me of how precious life can be. The game of golf allows me to cultivate new relationships and develop a deeper appreciation for life as I reflect on my near-death experience in 2004," Green explained.
"When individuals experience catastrophic injuries like myself, it is easy to hide from society. The game of golf allows me to showcase my talent despite the loss of a limb. In addition, I can engage with other warriors and meet different people from all walks of life," added Green. "It is delightful to hear where people are from and why they are giving."
Why Get Involved with Tee It Up for the Troops?
Danielle feels it's important for people to get involved to fill in the gaps where there are immediate financial needs. "You want to be a part of an organization that is transparent and that has a core group of solid individuals running the program," Green said. "All of us are meant to serve others in some capacity… this is what makes the world go around. All of us cannot serve in the military so getting involved with Tee It Up for the Troops can help people fill that void in their life of service or give back to a worthy cause. It shows veterans and their family members that people truly care about their service and sacrifice."
If you would like to serve others or give back and change the lives of veterans like Danielle and their families, donate here or get involved in one of our events here.
A True American Hero
Veteran Danielle Green is a Purple Heart recipient. She also received the 2015 Pat Tillman Award for Service, an ESPY Award (Excellence in Sports Performance). Danielle now lives in Florida with her son, Daniel, and partner Robert Thomma.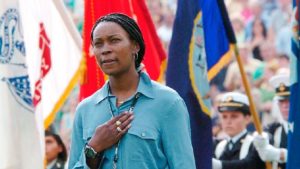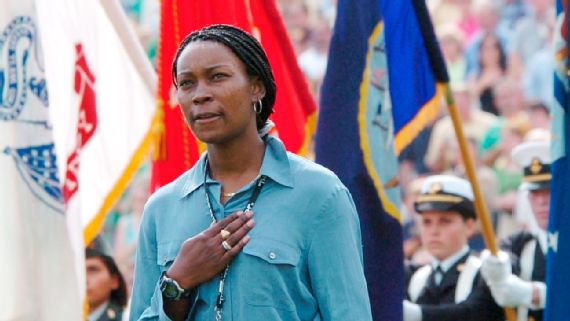 We at Tee It Up for the Troops have much admiration for Veteran Danielle Green and her awe-inspiring journey that we can all learn from.