After serving in the military, many veterans find it difficult to transition back to civilian life. They may feel isolated and disconnected from the civilian population, as they may have experienced traumatic events or formed close bonds with fellow servicemen and women while on active duty. Thus, veteran reunions or small group interactions are a critical part of healing.
The Bonds of Combat
The bonds of combat and brotherhood are forever. As many combat veterans will tell you, you may not have a blood brother or sister, but you can call on a military friend in any situation and they will be there to help. That's what five Marine veterans, with shared hardships, found out recently when they were brought together through a reunion held at Operation Patriot Forward Operating Base (OPFOB).
Jeffrey Monssen served 30 years of active duty in the United States Marine Corps and retired as a Sergeant Major. His deployments include the Western Pacific, 2 deployments in support of Operation Desert Shield/Desert Storm, Somalia in support of Operation Restore Hope, Kuwait, 2 deployments in support of Operation Iraqi Freedom, and Afghanistan. A highly decorated Marine, Jeff also conducted multiple anti-drug Joint Task Force operations across the US and South America.
After 30 years of service, Jeff retired from the Marine Corps in 2018. He continues to serve veterans and their families as a member of the National Board of Directors for Tee It Up for the Troops. While attending the 2022 Tee It Up for the Troops REUNION, veteran reunions that reunite combat veterans with their battle buddies with golf as the backdrop, Jeff had an idea. "Golf is awesome, but some people don't golf," Jeff said. "Perhaps we could bring a smaller group of combat veterans together by connecting them through other outdoor activities and the shared sense of military struggles they have in common," added Jeff. So, he set out on a mission to do so and investigate the concept.
Connecting Through The Great Outdoors
That's when Jeff learned about Operation Patriots FOB (Forward Operating Base.) Operation Patriots FOB (OPFOB) is a non-profit, operating on 268 acres in Ridgeland, South Carolina, with a mission to create and foster positive experiences for veterans by connecting through outdoor and recreational activities. A place where peers can engage in a comfortable and relaxed environment.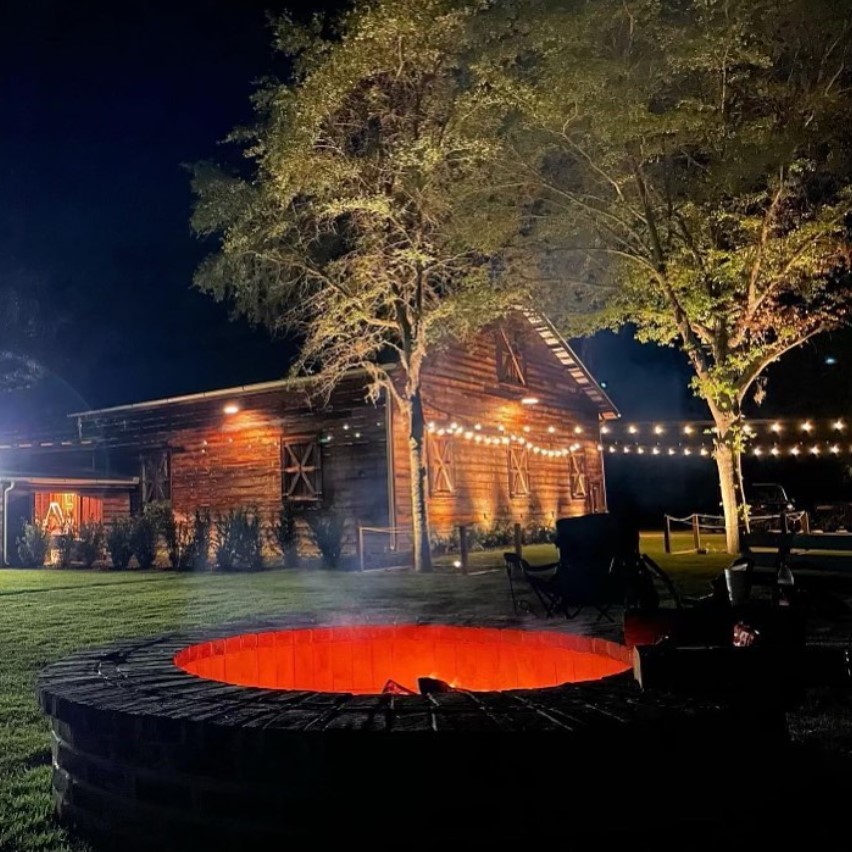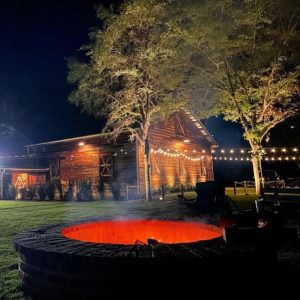 The Tee It Up for the Troops signature REUNION program is held annually at Reunion Resort & Golf Club in Kissimmee, Florida, bringing together about 60 combat veterans and their spouses or caregivers collectively who break up into small group discussions throughout their days together. Small group interaction is highly effective in getting veterans to open up with each other. The event at OPFOB, with just five in attendance, was the first small group reunion organized by Tee It Up for the Troops to further analyze small group interaction of combat veterans.
Monssen pulled together five Marines that had fought with him during some of the deadliest periods of combat in Kuwait, Somalia, Iraq, and Afghanistan to share their incredible experience and unbreakable brotherly love. The friends have known each other for 30 years, but the last time they had been together as a group was 10 years ago at a wedding. OPFOB was an opportunity for the comrades to get together for several days by themselves to talk, relax, take deep breaths, and feel comfortable with trusted buddies.
On April 19, 2023, the brothers in arms, now scattered in different parts of the country, reunited to reconnect, regroup, and refocus. They arrived to spend four days together at the OPFOB sanctuary and playground. They were now face to face, could wrap arms around one another, and share hardships and happy times too.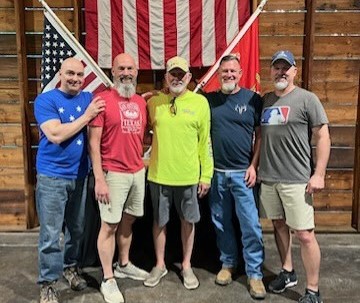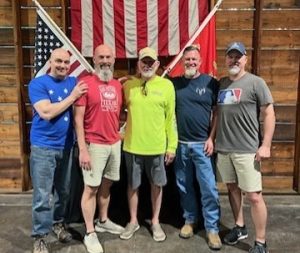 "Bringing veterans to a place they know, like this wonderful outdoor recreational setting, makes us feel confident and comfortable," said Jeff. "To hunt, fish, shoot, sit by a fire with those who understand you the most…nothing can compare."
The property is a beautifully rustic and peaceful space. There is a barn, a bunkhouse, a rifle and pistol range, skeet shoot, and stocked ponds. On the property and throughout the local community are opportunities for veterans and first responders to access both fresh and saltwater fishing. Attendees can participate in various hunting sports including pheasant, dove, quail, deer, turkey, and hog.
Jeff's group spent time on the gun range, drove ATV vehicles, and went hog hunting. Their fishing trip was canceled due to weather, but they made the most out of that day by going to a nearby air show and touring Parris Island, the famous Marine Corps Recruit Depot in Parris Island, South Carolina.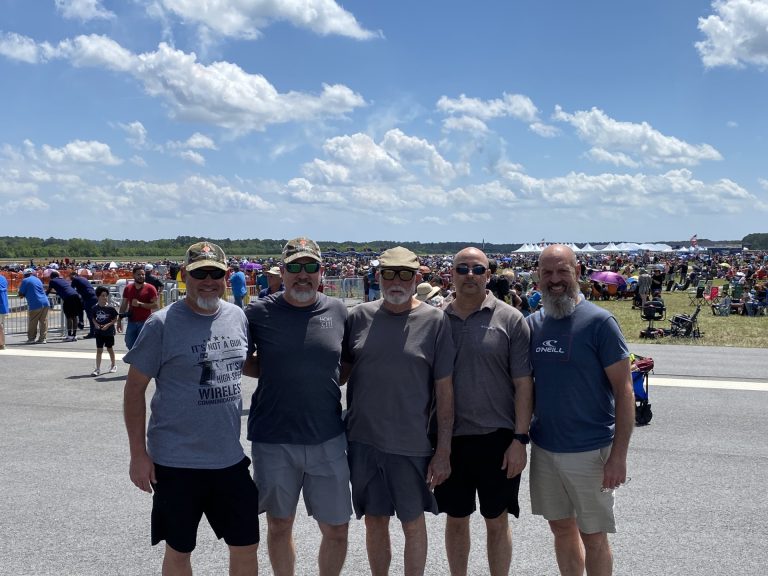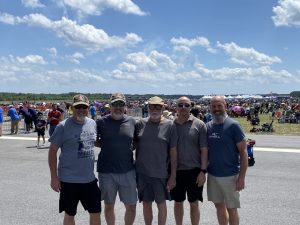 Yet, it was the fireside chats each evening that brought them the closest and brought about the unvarnished truth. The straightforward truth about how they were shot at and lost battle buddies to combat. And how they have come back, and some parts of their lives are very tough due to all the trauma they experienced and they're still losing friends to suicide. And how they deal with it in the privacy of their own lives.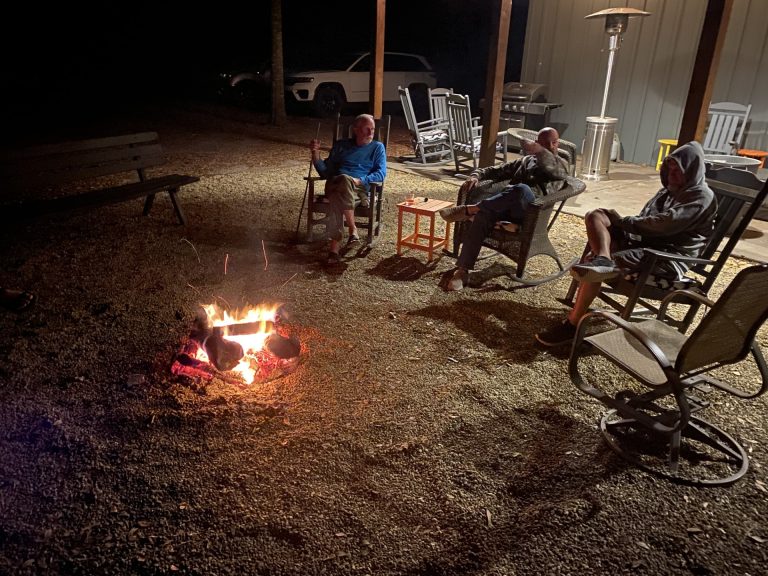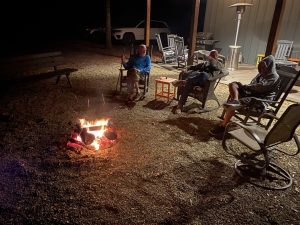 Sitting around the campfire provided a sense of security, warmth, and comfort for this group of Marines to let their guard down. Being around the fire and staring into the dancing flames put them into a relaxed trance where they just started talking, remembering, and healing. It was also a time to remember those they had lost and a chance to raise a glass and toast to them.
Reuniting Veterans with Small Group Interactions is Healing
Many veterans returning from recent conflicts and prior service eras continue to have post-traumatic stress disorder (PTSD) and other invisible wounds of war. Studies have shown that veterans benefit from small group interaction and support, including social support, purpose and meaning, normalization of symptoms and hope, and therapeutic benefits. Reuniting veterans together in small group interactions is highly effective and offers the opportunity to normalize PTSD symptoms by engaging with other individuals who have experienced similar trauma symptoms.
Conversely, the unvarnished truth is not all doom and gloom. This band of brothers also talked about the happy times in their lives. The days always ended on a high note, and everyone gets recharged.
Veterans need each other to heal. They also need a safe, comfortable place for the unvarnished truth to be told to help that healing. "Reunions and small group interactions for combat veterans positively impact the rest of their lives," Monssen concluded.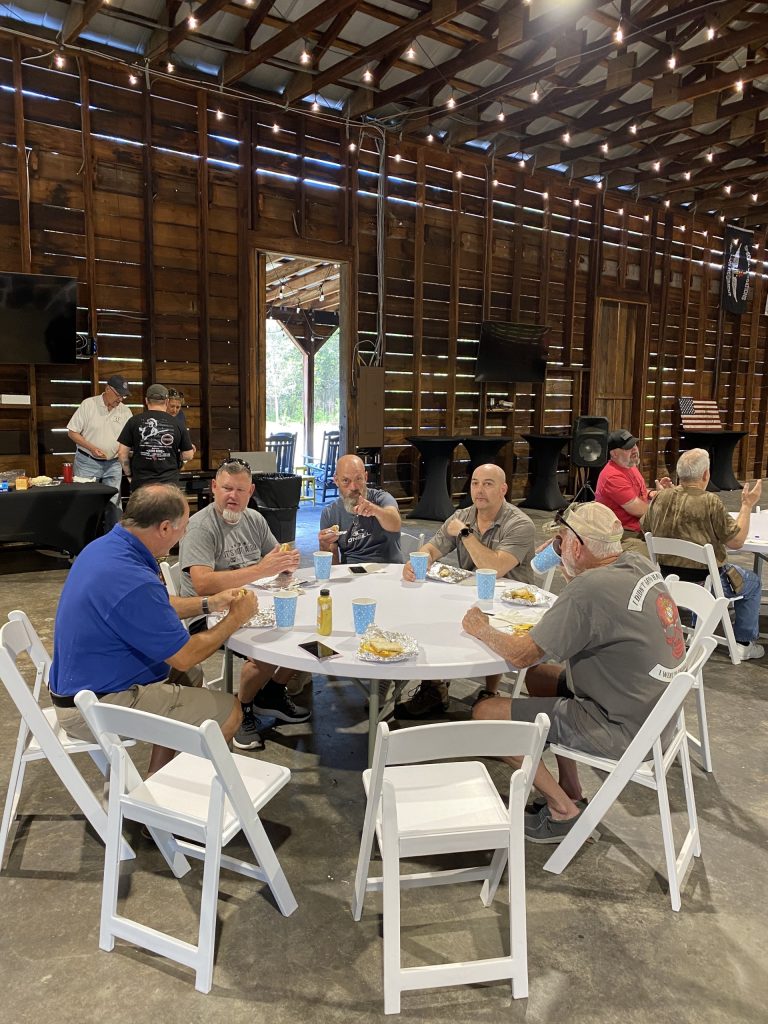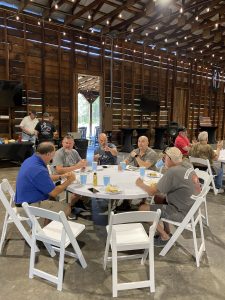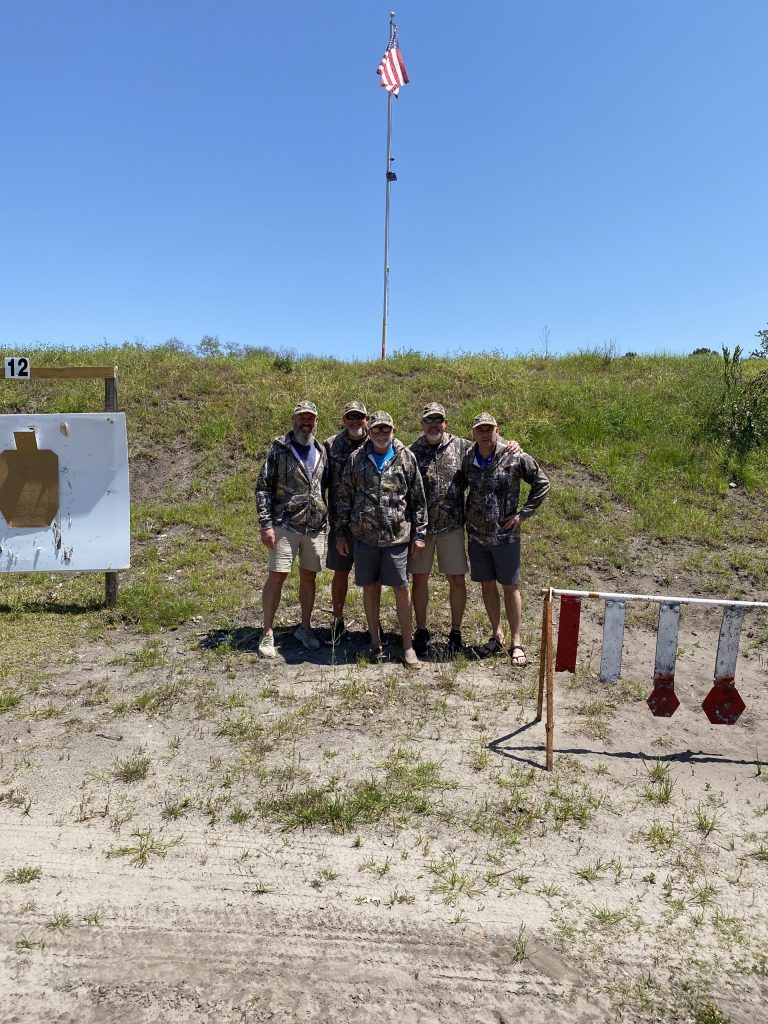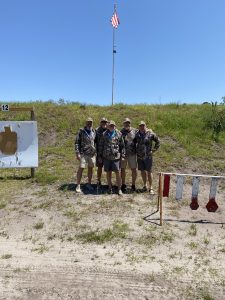 Please Help a Veteran Refocus at a REUNION
There are zero out-of-pocket costs to our participants who attend our reunions thanks to our generous donors. Tee It Up for the Troops is inspired to see how businesses are recognizing the importance of supporting our nation's veterans. If you would like to open the door to a fresh new mindset and outlook on life for our country's veterans, PLEASE Donate Today Here.