Tee It Up for the Troops to Benefit from Imperial Headwear's First Tour Visor™ Fundraiser
Auction will support seven nationwide organizations to kick off holiday season.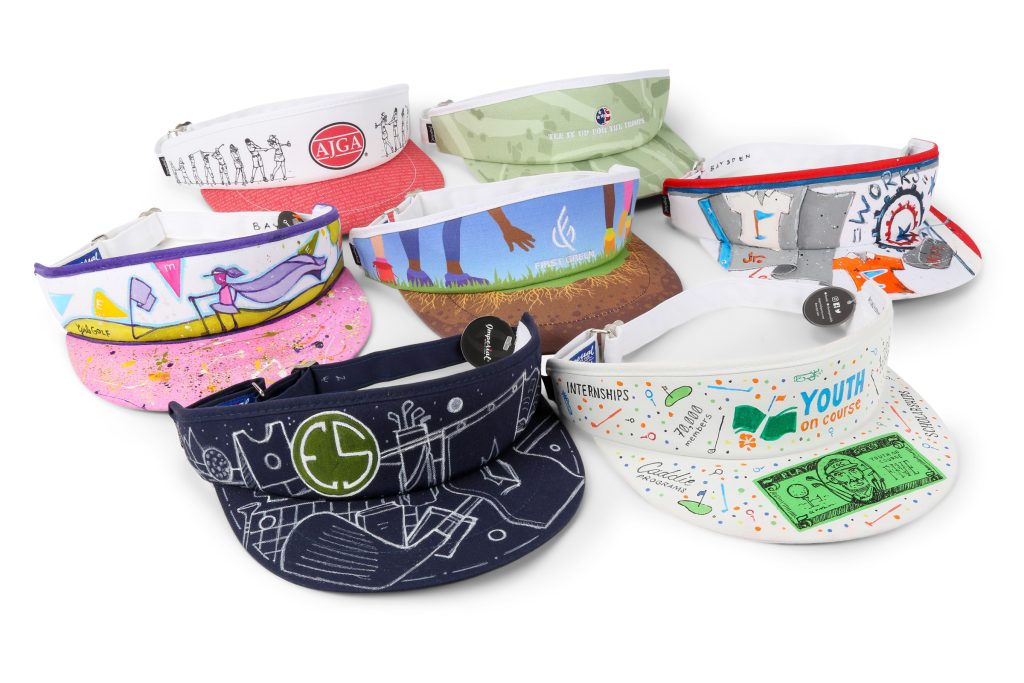 Tee It Up for the Troops is thrilled to announce a partnership with Imperial Headwear and renowned artists for Imperial's first Tour Visor™ Fundraiser. The auction fundraiser is set to begin on Dec. 9 and run through Dec. 15 on imperialsports.com, with all proceeds benefiting the partner non-profit organizations.
Imperial has teamed up with Tee It Up for the Troops, American Junior Golf Association, Evans Scholars Foundation, The First Green, LPGA*USGA Girls Golf, PGA Reach, and Youth on Course for the first Tour Visor Fundraiser. A single limited-edition Tour Visor was created for consumers and organization supporters to bid on, with 100 percent of proceeds going to the respective non-profit organization.
"The Tour Visor™ Fundraiser was an incredibly rewarding process of bringing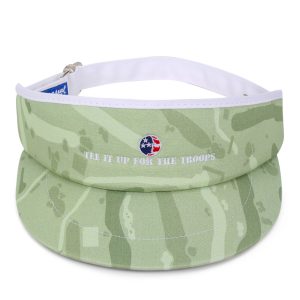 together the non-profit organizations we currently support with renowned artists who can help bring their stories to life," said David Shaffer, Vice President of Sales and Marketing for Imperial. "These Tour Visors™ are truly one of a kind and the auction winners for each visor will have an artistic piece that gives back to these wonderful organizations."
Each organization was partnered with an artist to create a single Tour Visor that epitomizes the mission, vision and values of the respective organization. A variety of artistic mediums was used, from painting and photography to graphic design. Imperial and Tee It Up for the Troops collaborated with Lee Wybranski to bring their visions to life.
"Tee It Up for the Troops is very proud to partner with Imperial Sports on this unique fundraising program," said Tim Wegscheid, President of Tee It Up for the Troops. "Imperial has consistently 'stepped up to the tee' and stood by our side for several years as we have collaborated in support of America's veterans and military families. We were also very honored to work with such an amazing golf artist in Lee Wybranski in developing this collector's visor. Thanks to Imperial and Lee for teaming up with us for this initiative."
To bid on the limited-edition pieces in the Tour Visor™ fundraiser, please visit imperialsports.com from Dec. 9-15, 2019. Each Tour Visor™ bid will begin at $250.
About Tee It Up for the Troops
Artist: Lee Wybranski
Tee It Up for the Troops is a national non-profit organization that inspires communities across the USA to host fundraising golf events and provide support toward these critical areas of need for our military veterans: Golf and Sports Rehabilitation, Suicide Prevention, PTSD and Traumatic Brain Injuries, Employment, Housing/Homelessness, and Family/Caregiver Support. Since being established in 2005, Tee It Up for the Troops has hosted over 500 events in more than 40 states and has donated over $10 million to assist veterans with transitioning from the battlefront to the home front
About Imperial Headwear
Founded in 1916, Imperial Headwear is the leading manufacturer of premium quality headwear, apparel and accessories for the golf market. Imperial's products can be found at 96 of the Top 100 and over 70% of the Top 400 golf courses in the United States. The Association of Golf Merchandisers (AGM) has voted Imperial the #1 golf headwear brand for four years in a row.
Imperial is committed to style, functionality and perfection in fit and comfort. It is this commitment that has allowed the creation of a wide variety of headwear and apparel with quality that is second to none. Renowned for its superior customer service and art customization capabilities, Imperial offers its products using the most innovative fabrics and designs, as well as logo decoration and embellishment technologies.
For further information please visit Imperialsports.com or call (800) 950-1916. Follow Imperial Headwear on Twitter and Instagram at @ImperialHats and on Facebook at facebook.com/ImperialInc. Imperial Headwear's 100th Anniversary video can be viewed at https://vimeo.com/179793530.
Contacts:
Theresa Johnson
Communications
theresa@teeitupforthetroops.org
Abby Liebenthal
Marketing Manager