Attention all golfers and golfing families…"Introducing our fully revamped online Patriot Pro Shop!"
Let's be honest: One of the many fun aspects of playing golf is the dress code. White belts, white shoes, chartreuse shirts, and wild shorts make for some serious peacock strutting down the fairways. Golf attire is often loud and fun, as it should be.
This year, along with wearing the loud, we want to encourage you to wear the proud.
Are you wondering what to wear to this year's Tee It Up for the Troops golf tournaments? Or do you need some patriotic clothing for Memorial Day, July Fourth, or for the 2021 Ryder Cup at Whistling Straits Golf Club?
You're in luck! We have made it easy for you to get your red, white, and blue on with our new brands available now through our online store, the Patriot Pro Shop.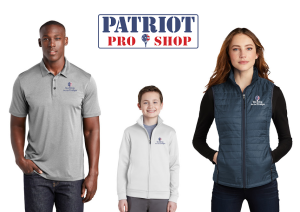 We have fully revamped our Patriot Pro Shop to include the Tee It Up for the Troops brands you've been asking for! We now have outerwear (rain jackets, vests, and more), expanded headwear (Bora Bora hats, bucket hats, visors, and more), youth apparel, additional accessories (golf balls, coolers, tote bags, and more), and we're also proud to offer a new line of American-made products.
When you purchase your golf attire and accessories through our Patriot Pro Shop, you are directly supporting U.S. veterans and their families. You can also purchase confidently, knowing that 94 cents out of every dollar donated goes directly to supporting our programs, while just six cents on the dollar goes to administrative costs!
When you purchase our Tee It Up for the Troops brand golf wear, you're helping us advertise and promote one of the most respected charities in the nation. By wearing our brand merchandise, you are creating and promoting awareness of the daily issues that our veterans face. You never know; one day, you might have the perfect volunteer for our organization in your foursome, and he or she might not even be aware of Tee It Up for the Troops and what we do. Branding and marketing matter. And our veterans matter even more.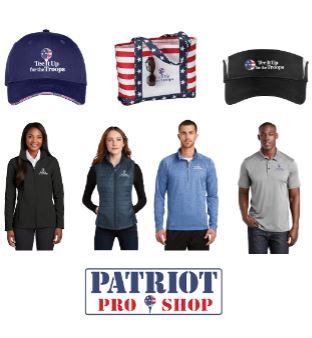 Yes, our merchandise is about golf attire and accessories, but it's also about so much more. You can help simply by stylin' and profilin' our brands the next time you are out on the links.
And here's more great news! Our Patriot Pro Shop has e-gift cards! You can purchase the electronic gift card and have it sent to your email address for easy printing and/or forwarding to the recipient of your choice. Then, the receiver of the e-gift card can pick out whatever he or she wants from our Patriot Pro Shop.
You can also purchase your e-gift cards right here at the Patriot Pro Shop. Enjoy free shipping for orders over $75. Orders under $75 dollars are shipped for just $5.95.
We hope you'll enjoy our all-new Patriot Pro Shop. We're excited to help you get all your red, white, and blue as well as stars-and-stripes golf gear to make you look great on the course—all the while helping to create awareness of the needs of our military veterans and families.
We can't wait to see you at our tournaments this year, and thank you for your continued support! Shop here: Patriot Pro Shop