Ernie Lamson, a World War II Veteran and a Tee It Up for the Troops warrior, celebrated a significant milestone of turning 100 years on March 28, 2022. Ernie is one of a small fraction of heroes still alive who served during World War II and is a part of the Greatest Generation.
A World War II Veteran's Love of Golf
At 97, Ernie played in the 2019 Tee It Up for the Troops Mendakota Country Club Golf Event in Minnesota, riding in a cart and bringing his big personality to everyone he met on the course. Always seen on the course in his 82nd Airborne jersey and cap, Ernie has been to many of Tee It Up for the Troops events over the years, including the Reunion event in Florida in 2014.
"I really love going to the Tee It Up for the Troops events because I run into a lot of old friends and meet new friends," said Lamson. "Everyone is wonderful and the outings are real enjoyable. Not too long ago, I could play pretty good golf too!"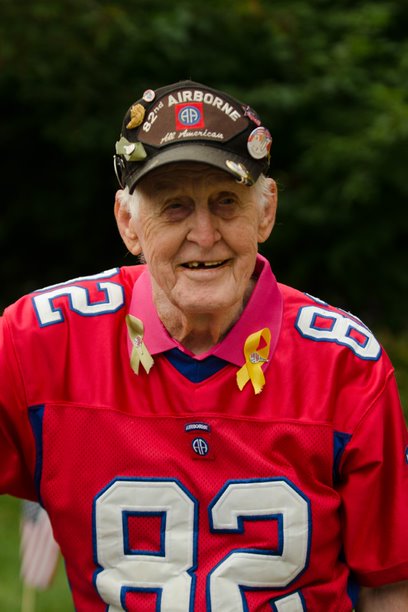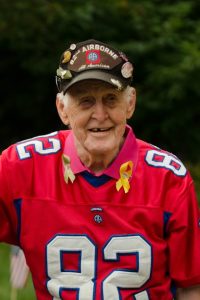 When Ernie was playing 18 holes of golf at least twice a week with his golf buddies several years ago, he was scoring in the high 70s and low 80s. "I shot a 93 at age 93," he proudly added. Ernie was a lifelong member at Como Golf Course near his home in St. Paul, Minnesota. "Golf has been a great activity for me. I find satisfaction in being able to get a good score. I never had a hole in one in all those years, but I've come awfully close."
"For years I walked and carried my clubs," Ernie recalls. "I can remember going up to a hole and two young kids were there on a golf cart. They asked me how old I was, and I told them I'm 70 years old. They asked why I wasn't riding in a cart. I said because I am perfectly healthy and fine walking and carrying…and those golf carts cost extra money."
Ernie has taken care of his body claiming he has never smoked a cigarette or drank, quite a feat for a soldier in World War II. He still fits into his original 1942 Airborne jump jacket. Along with golfing just a few years ago, Ernie also enjoyed playing duplicate bridge and doing pushups every morning.
Life During The War
Born on March 28, 1922, and growing up in the St. Paul area, after high school, Ernie enlisted in the 508th Parachute Infantry Regiment, 82d Airborne Division. He completed jump school in 1943 but badly broke his femur during a jump that August. To add to his injury, a handle of the stretcher he was on broke and punctured one of his lungs and had to spend seven months in the hospital. Due to his injury, he missed D-Day, a fact he has bittersweet thoughts about, "the injury probably saved my life." He was honored and written up in local French newspapers during the 70th anniversary D-Day celebrations in Normandy in 2014.
Life After The War
"I hooked up with the 508 at a reunion in Omaha, Nebraska in 1984 and served as the president and treasurer for several years – I was also chairman for several reunions and made another parachute jump on my 90th birthday," Ernie said. After the war, Ernie became an accountant and worked with Blue Cross/Blue Shield. He attributes playing weekly golf and the Tee It Up for the Troops events, along with his other healthy living, for keeping him fit, healthy, and socially connected.
Lamson lost his wife of 65 years, Charlene, 12 years ago. He would lose his only son, Kevin, 51, who suffered a heart attack, and a grandson, Aaron Lamson, 35, to a surfing accident in Hawaii that same year. His daughter, Gail, died of heart failure in 2018 at age 62.
Today, Ernie lives with his only immediate family member and daughter, Renee, in his native St. Paul. Renee helps care for Ernie and describes his health as "good …he is not on any medications …has a great appetite… has a little trouble walking and hearing when his hearing aids are giving him problems." During the day, Ernie still uses his computer for e-mail and card games. He also checks in on his Facebook page.
Due to an all-expenses-paid cruise hosted by the National World War II Museum, Ernie and Renee traveled together to Normandy in 2019 for the 75th Anniversary of D-Day. They both were able to experience the major historical sites and sounds of the war that Ernie signed up for and that changed the world.
"The cruise to Normandy and traveling with my dad for the 75th anniversary was very special," said Renee. "It was an honor to be there with him and about 500 other veterans who each had a story about their involvement in the war. I learned so much that I did not know during that trip. World War II Veterans have a lifetime of knowledge to share."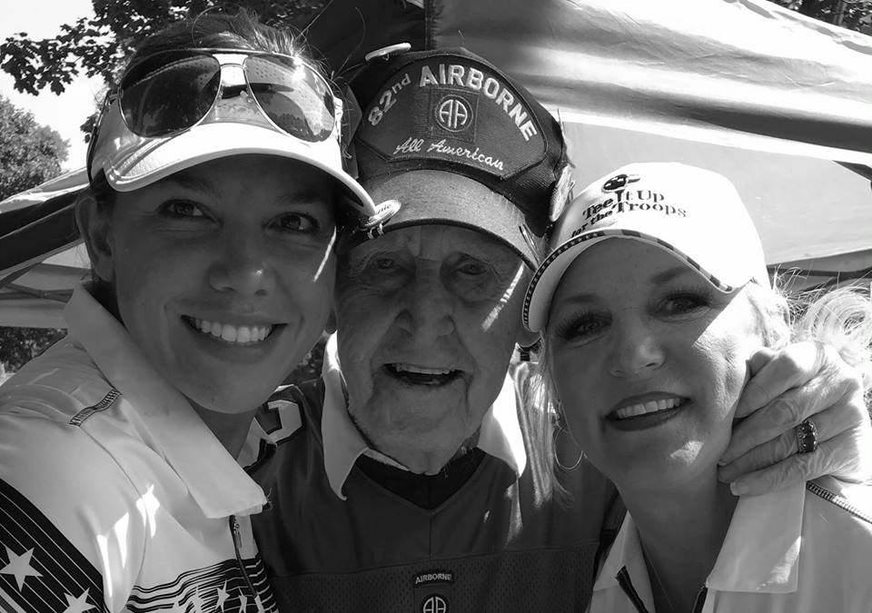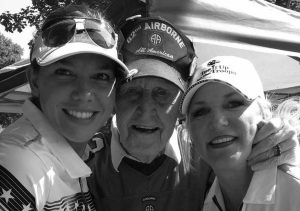 Celebrating A Tee It Up for the Troops Hero
The World War II Veteran celebrated his milestone 100th birthday Sunday, March 27 surrounded by family and friends at Gabe's by the Park Restaurant in St. Paul. Ernie had to undergo medical treatment just two days before the party and the event almost did not happen. But, showing his grit, and with the approval of his doctor, Ernie was able to make it to his celebration. See the special news story about this World War II and Tee It Up for the Troop's Veteran on Fox 9 Twin Cities.
Ernie Lamson is that rare and precious American- a World War II Veteran and a member of the Greatest Generation. We appreciate his support and service and all the joy he has brought to our many Tee It Up for the Troops events. Happy 100th Birthday Ernie!