According to the U.S. Census Bureau, since 2009, Americans have increased their online spending by 100 billion dollars.
According to a 2018 NPR/Marist poll, 69% of Americans shopped online during the year, and 43% regularly shop online.
That is a lot of money spent on shopping, and with the advent of Covid-19, the percentage of people regularly shopping online has dramatically increased.
What does online shopping and AmazonSmile have to do with Tee It Up for The Troops? Four words: Fast, Easy, Life-Changing Donations.
Shop AmazonSmile to Raise Money for Tee It Up for the Troops at No Cost to You!
Amazon through its AmazonSmile initiative is donating 0.5% of all eligible purchases to the charity of your choice when you shop. That means it's possible to send real donations to Tee It Up for the Troops at absolutely NO cost to you—just shopping at smile.amazon.com does the trick!
Designate Tee It Up for the Troops as your charity, and Amazon will send donations to benefit the organization every time you shop—every little bit counts!
Giving to Tee It Up for the Troops has never been easier. Let's get started!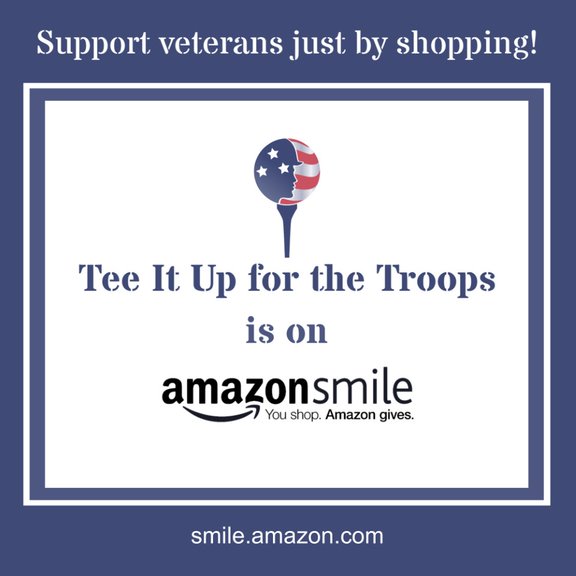 There are a couple of different ways you can sign up for the AmazonSmile program.
Join AmazonSmile at smile.amazon.com. You can sign up to the AmazonSmile program at smile.amazon.com on your computer, tablet, or phone. There you'll select the Get Started button and sign into your Amazon account. After you sign in, there will be a list of charities to choose from. Search for Tee It Up for the Troops in the search bar and select us! Once you've selected Tee It Up for the Troops, then you're set up!
Here's the all-important final step: make sure you shop at smile.amazon.com rather than plain amazon.com. Using the "smile.amazon.com" address will ensure that Amazon contributes part of the purchase price to Tee It Up for the Troops!
Get the app. Download or update to the latest version of the Amazon Shopping app on your phone. You can find the app in the App Store for your iPhone or Google Play for Android. Log in to your Amazon account on the app. Once you're logged in, navigate to the Settings menu ( where you can also see buttons for Account and Your Orders). Below Settings, you'll find an AmazonSmile button. Click the AmazonSmile button, and then proceed through the instructions provided, and you'll be set!
You can begin to make a difference in our veterans' lives with a smile and a click, here and now, today.
Please give to Tee It Up for the Troops through AmazonSmile. You can start today!