The Tee It Up for the Troops Desert Mountain Golf Club Event in Arizona, like all our military charity events, honors both our fallen soldiers and those Gold Star Families left behind. This particular event brought healing and involvement for one Gold Star Mother.
Vicki Dryer's son, Corey, was only in the Army for a little over a year. During his first deployment to Afghanistan, he was killed in action about two months into his assignment. "Before Corey left for deployment, he had a talk with me to prepare me," Vicki stated. "He knew he was going to a really bad place. He said 'Mom, everyone will move on…my wife, my sisters, others …except you Mom.' He would be so surprised at all the people, including those he served with, that will always carry him and his story forward."
Vicki started working at the Desert Mountain Golf Club after Corey's death when she was feeling the early stages of intense grief. "I was really, really struggling," said Vicki. "My husband encouraged me to get out of the house and off the computer." She had never been on a golf course before, but a friend drove the beverage cart and encouraged her to apply at the Desert Mountain Golf Club. During the interview, Vicki told the golf course personnel that she was seriously grieving over the loss of her son, but that she was honest, hard-working, and could learn just about anything. She was hired and started out driving the beverage cart, but soon was doing a little bit of everything around the club. When the first Tee It Up for the Troops golf charity event came to Desert Mountain in May of 2022, everyone at the club agreed that Vicki needed to be involved.
Vicki, who finds her way forward by getting involved to honor and support all those who have sacrificed so much to serve our nation, was instrumental in getting the first Desert Mountain event off the ground.
In the military, there's a saying "no man left behind." At Tee It Up for the Troops, we want to let Gold Star Families know they won't be left behind either.
Gold Star Families are the surviving family members of military personnel who died while on active duty. During our golf events' open ceremonies, we provide an opportunity for Gold Star families to honor their loved ones and fallen warriors.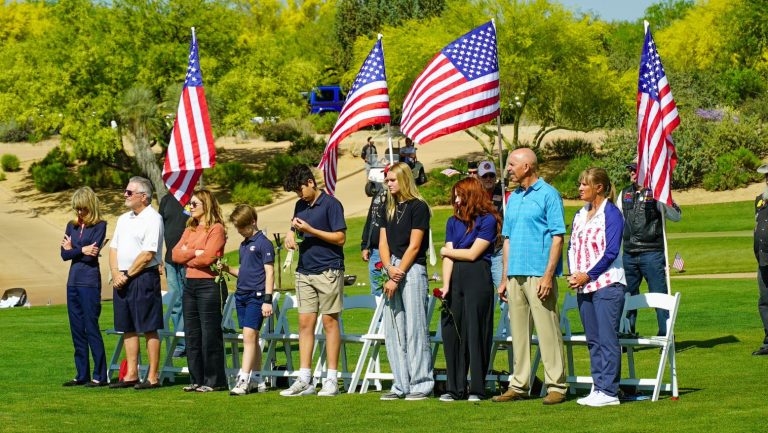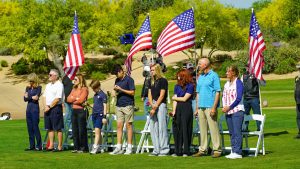 Vicki, a proud Gold Star Mother, honored her son, Corey, at our Desert Mountain Golf Club Charity Event in Phoenix, AZ last May. PFC John Corey Johnson died on May 27, 2011, from wounds suffered when insurgents attacked his unit with small arms fire in Kandahar province, Afghanistan.
Vicki organized many aspects of the patriotic event, including the Arizona Patriot Guard Riders arriving at the event with flags waving on their motorcycles, elements of the opening ceremony, including an Honor Guard, and a wreath-laying by Gold Star Families. Vicki will tell you that the most important thing she did in helping to organize the golf charity event for military veterans was "wearing the hat." "For months leading up to the event, I wore that Tee It Up for the Troops golf hat and talked to everyone I could about the event," Vicki explained.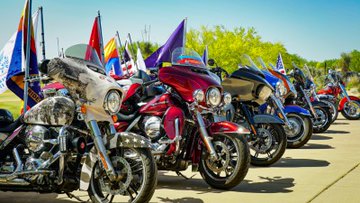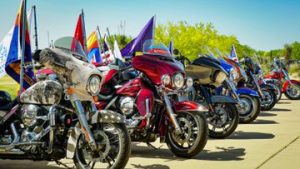 "Getting involved in the Tee It Up for the Troops Desert Mountain Golf Club event brought me additional healing and great joy," Vicki said. "People who find great joy in life, give back. I had taken a break from giving back and after examining my happiness, I figured that I needed to show love and give back."
"Being a volunteer and getting intrenched with this charity helped me immensely," Vicki added. "The Tee It Up for the Troops event is truly unique. It honors our military and fallen soldiers in a very patriotic way, but it's not all somber like some remembrance events. It was great to see everyone having fun on the golf course and how everyone was enjoying themselves."
PFC John Corey Johnson, 28, was assigned to the 1st Battalion, 32nd Infantry Regiment, 3rd Brigade Combat Team, 10th Mountain Division and was deployed to Afghanistan in support of Operation Enduring Freedom in March of 2011. This was during a very heightened conflict time with the Taliban and al-Qaeda shortly after Osama Bin Laden was killed by U.S. Forces. Insurgents attacked his unit with small arms fire, killing Corey.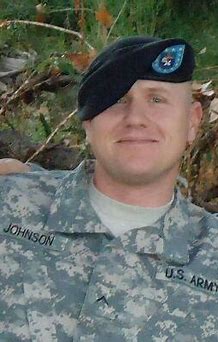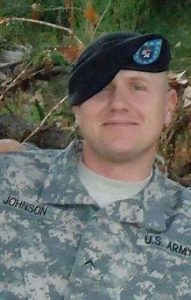 Six other members of Corey's battalion were also killed in action during this conflict. Sadly, three additional members of his unit would die by suicide.
On Mother's Day in 2011, from Afghanistan, Corey sent his mom, Vicki, a dozen roses, a gift box of Shari's Berries, and a card. Corey joked with his stepfather, "Beat that Dryer…all the way from Afghanistan!" Nineteen days later Corey was killed in action.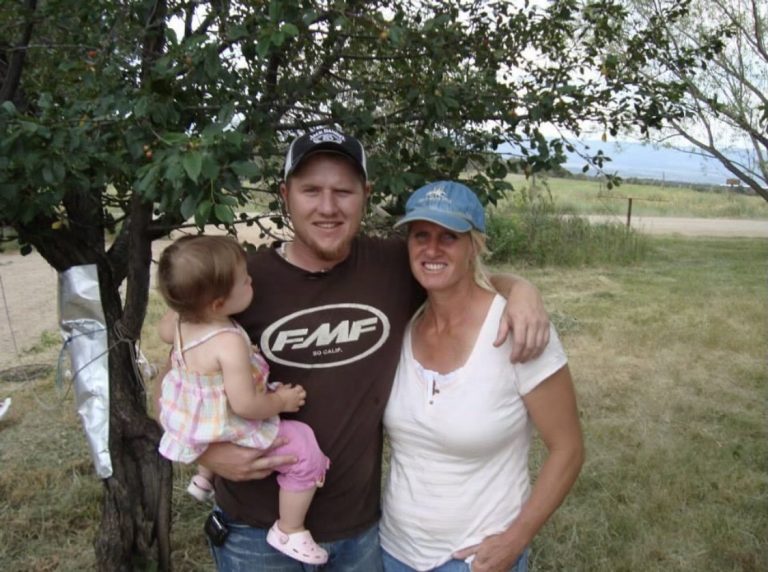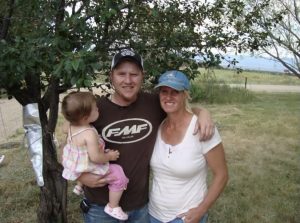 When asked for the three things Vicki would want others to know about her son, Corey, she replied:
"He was a defender of his sisters, his mom, and his family. He always took care of all things good."
"He was funny. He would hide in strange places and jump out and scare me."
"He was unique. He was a redneck – that was my pet name for him. I told him he could not get a tattoo unless it was a tattoo for his mom. At 18 he got a tattoo that read 'redneck.' He called it his 'mom tattoo.' He also had his daughter, McKena's feet from her birth certificate tattooed on his chest. Those baby feet left a lasting impression on the men who cut his uniform off and performed medical attention to try to keep him alive."
Corey's awards and decorations include the Army the National Defense Service Medal, the Afghanistan Campaign Medal, the Global War on Terrorism Service Medal, the Army Service Ribbon, the Overseas Service Ribbon, the NATO Medal, and the Combat Infantryman Badge.
It is the ultimate sacrifice that Corey and others have made on behalf of their country that we remember and honor at Tee It Up for the Troops golf events. "It's really important as a nation to remember that Afghanistan was the longest war in American history," said Vicki. The effects of this war are generational. Our work and our gratitude are never done."
Please take a moment to watch the Desert Mountain event video below. It's an impactful patriotic video reminding all of us of the blessings and freedoms we have due to the service and sacrifices of our amazing military men and women.