SECOND YEAR IS A SELL- OUT!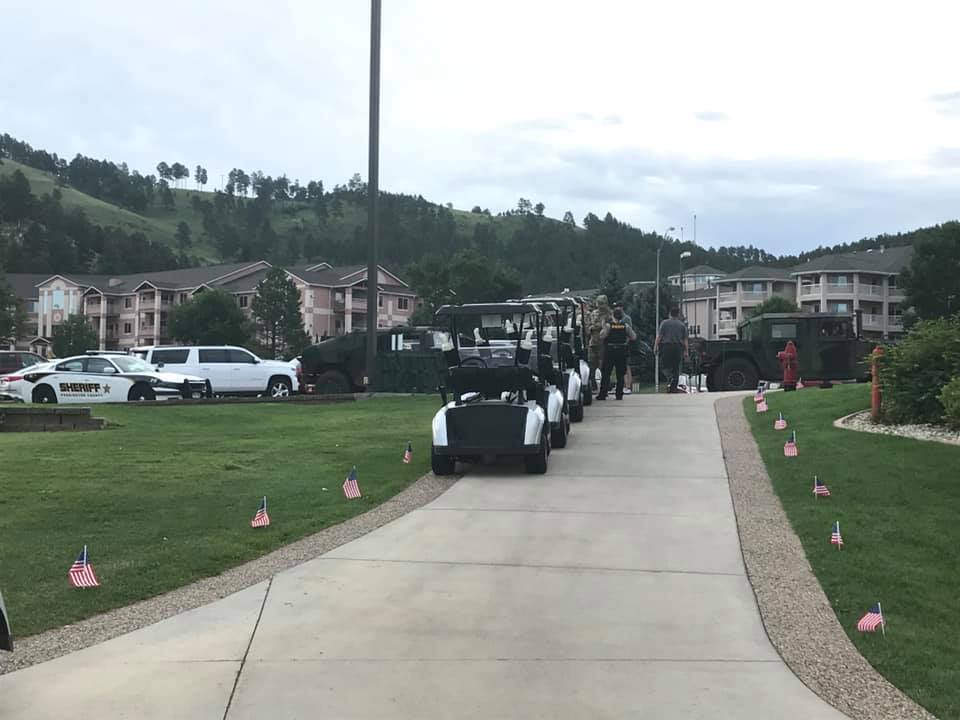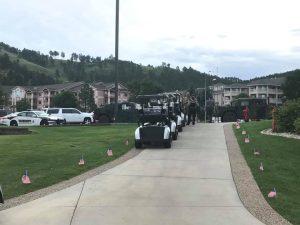 The second annual Tee It Up for the Troops-Black Hills, South Dakota event on July 20, 2020, at the Arrowhead Country Club was a success on the green and beyond!. The event honored U.S. military service members and benefited those who have been wounded in the defense of our freedom.
The Tee It Up for the Troops Black Hills event is led by Joey Franze, a Captain in the Air Force's Medical Service Corps, who is currently stationed at Ellsworth AFB, SD. Joey has served 11 years in the Air Force and previously served as a medical technician who supported Operation Enduring Freedom (Afghanistan) and Operation Iraqi Freedom.
Spending years in the military medical field, Joey has had the opportunity to work with all branches and has seen the need for resources that sometimes can only be provided outside the walls of a medical facility. "After working with Tee It Up for the Troops to get our first two events off the ground, I have experienced firsthand the positive impact that the game of golf and our event has had on our Black Hills veterans as well as the local community and together we are working to close the gap and make a difference," said Joey Franze, Tee It Up For Troops-Black Hills Tournament Director."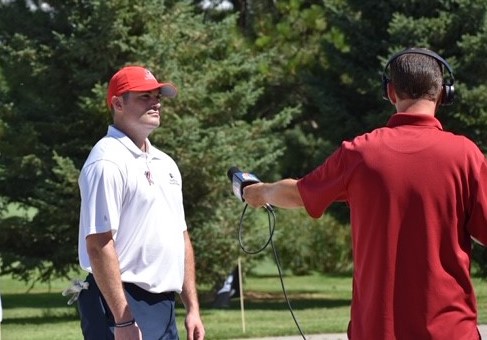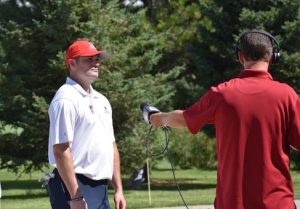 Due to COVID-19 limitations, the event had a few creative adjustments inspired by the tournament committee. One of those innovative modifications was the creation of an impactful virtual opening ceremony instead of a live opening ceremony to avoid a large group gathering. The virtual opening ceremony was produced by the leading sponsor, NewsCenter1 Media Group, which is the Black Hills, South Dakota local NBC station, and was sent out before the event on various platforms such as Facebook, email, and text message. Golf participants were sent a link and encouraged to download it to their smart device so that they could watch it as a team on their first tee box before the start of the event. The virtual opening ceremony was also showcased on the event's Facebook page which allowed the ceremony to be brought to the community and followers without them physically being present. Watch the impressive virtual opening ceremony here: 2020 Tee It Up for the Troops-Black Hills-Opening Ceremony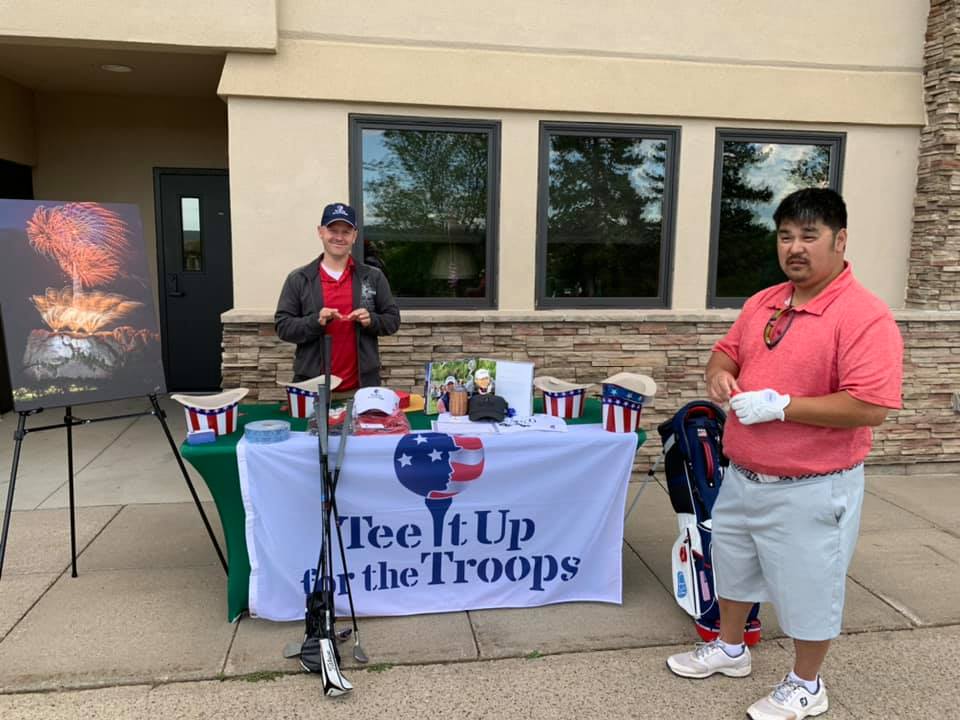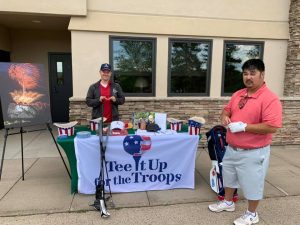 Some of the other changes that were made included limiting the registration table to no more than one person per team, limiting the course to 25 teams or 100 players to ensure that the course was not over-run, and a box lunch that could be picked up at two locations on the course instead of having a reception after the event. The entire event was held outside including opening and closing remarks and the awards ceremony.
"In this time that we are all currently going through, finding ways to connect with our community is more important than ever," said Franze. "At the end of the day, we wanted to ensure that everyone at our event had a great experience while remaining safe. Even with COVID-19 restrictions on how a golf event can operate, we had 100 participants which were a 40% increase from last year. We had to turn away teams. Next year though, if the restrictions are lifted, we are aiming at 144 participants!" added Franze.
In just its second year, the 2020 event nearly doubled the fundraising efforts of the first year, raising almost $7,000 for our military heroes! The top two sponsors were NewsCenter1 Media Group (presenting sponsor) and Midco (lunch sponsor). There were also 13 other team and hole sponsors from businesses in the Black Hills area. Proceeds from this year support two local non-profits; Super Dogs for Super Heroes, which matches rescue dogs with veterans, and the DTOM 22/0 Foundation, whose goal is to stop veteran suicide.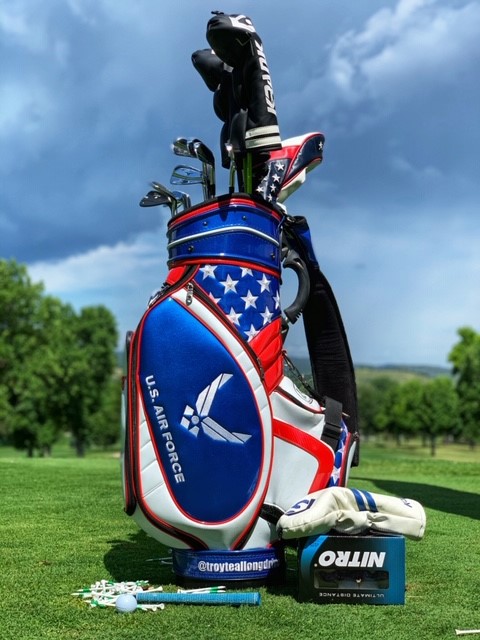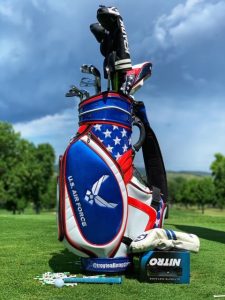 Military support was in full force with 40 veterans and active-duty members who played in the event and others who volunteered. Troy Teal, an Air Force Combat Veteran who is also a five-time World Long Drive Championship Competitor, was also on the course providing entertainment and support. The Black Hills event has quickly become one of the largest Tee It Up for the Troops events in terms of veteran participation in the nation.
Governor Kristi Noem declared Monday, July 20, 2020, as "Tee It Up for the Troops Day" in the state of South Dakota and U.S. Senator Mike Rounds, who has supported the event each year, had some of his staff play in the event.
Behind every great event are dedicated volunteers. Thank you to the 2020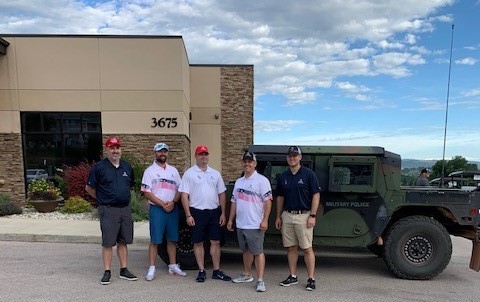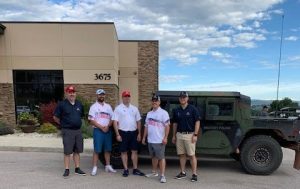 committee members pictured left to right: Beau Garcia – Member of American Legion Post 22 & Sons of the American Legion; Chuck Brookings – Army Veteran, OIF/OEF/OND; Joey Franze – Tee It Up for the Troops-Black Hills Tournament Director; Capt., Air Force Medical Service Corps, OEF/OIF; Tom Vallette – Current Pennington County Veterans Service Officer; Air Force Veteran, OEF; Dave Atwood – Active Duty Air Force. Not pictured is Dale Christensan, Army Veteran, Vietnam.
When asked about the Tee It Up for the Troops-Black Hills charity event and what he's most proud about, Joey said: "How we as an entire community are rallying around our veterans and coming together to create a very unique experience that you can only find in Rapid City, SD….and we are only getting started!"
The 2021 committee is hard at work on creating an event that will be even bigger and better which will be held on Monday, July 19, 2021, at Arrowhead Country Club in Rapid City, SD. For more information on next year's event be sure to follow them on Facebook at Tee It Up for the Troops-Black Hills. For sponsorship opportunities or inquiries on playing in next year's event please feel free to email them at teeitupbh@gmail.com.
If anyone is interested in learning more about how this well run event operates or to get some ideas to start your own Tee It Up for the Troops event, Joey would be more than happy to set up a zoom call or other form of communication with you. You can e-mail him at teeitupbh@gmail.com.