The 9/11 attacks prompted the U.S. to declare a global "War on Terror" on September 20, 2001. Many patriots were prepared to serve and defend their country and their fellow Americans, no matter the risk. Two of those patriots, John Wilson and Ben Ransom, share their moving story of how a few days at Tee It Up for the Troops REUNION changed and shaped their future.
John Wilson, US Marine Corps
John Wilson joined the Marine Corps before 9/11 in 1999. As John puts it, "I was going nowhere in life." John's little brother was looking to join the military and his dad said he should join the Marine Corps too. "I can't let my little brother do something I can't do so I joined up," said John. Both brothers were stationed at Camp Hansen in Okinawa, Japan, where they linked up for the next year.
Ben Ranson, US Marine Corps
Ben's older brother joined the service in 1999 and was in the Marine Corps Air Wing. Ben took this as a challenge and decided to do a "harder job" and joined the Marine Corps Infantry Division in 2001. Ben and his brother were also both stationed in Okinawa, Japan. However, Ben arrived just two weeks after his brother departed the country. Ben spent a year in Okinawa as his last peacetime deployment before Iraq.
It would not be their bloodline brothers these two men would find themselves with during the fight of their life, but each other.
Brothers in Service
Both John and Ben found themselves back in the United States at Twentynine Palms, California, for buildup and deployment to Iraq. John had left the service in 2003, however, he volunteered to be recalled to active duty under a Presidential recall in 2004. As a Scout Team Leader, John was placed in the same active-duty unit, the 3rd Light Armored Reconnaissance Battalion, as Ben. Together they went through all the pre-deployment training in preparation for Iraq.
Ben and John deployed only one time together to Iraq from June to November 2004, yet their time together will last a lifetime. During these five months, they fought together in Fallujah, Iraq during Operation Phantom Fury in one of the biggest urban battles since Hue City Vietnam.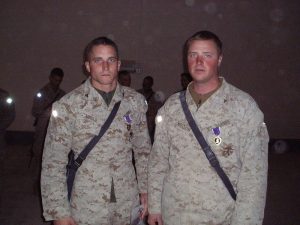 Firefight with the Enemy
On November 15, 2004, Ben & John's unit was conducting a foot patrol in a small town near the Euphrates Peninsula just outside of Fallujah. On the way back to their vehicles, they found themselves in the heart of the action, taking fire and rocket-propelled grenades (RPG's) from all directions. They immediately requested permission to assault. Ben yelled out, "I see them, I see them." Regrettably, during the intense firefight and confusion, a misjudgment was made. The Marines moved down an alleyway that had six-foot walls on each side and no way out. That is when they got ambushed. John took one shot in the calf. Ben sustained five rounds including to his thigh, through his flak jacket, foot, buttocks, and one that grazed his hip. With adrenaline rushing, all they could do was tell Ben to play dead and stop moving until there was a lull in the fire. While lying there, Ben got shot in the foot and decided his best chance at survival was to try crawling to the corner and get back to his fellow soldiers. While still under heavy fire, his comrades were able to pull Ben to a side of a building and check out his injuries. Ultimately, they were all removed from the firefight by a light armored vehicle.
Both Marines were ground medevaced back to Al Taqaddum Air Base in Iraq, where they rapidly parted ways. Ben was flown by Black Hawk helicopter to a mobile surgical hospital where he underwent his first surgery. He was then flown to Germany for more surgeries before being sent to San Diego to recover. John stayed at the base medical unit recuperating until the end of the month. He then met up with his unit and finished out his deployment until he was honorably discharged in 2005.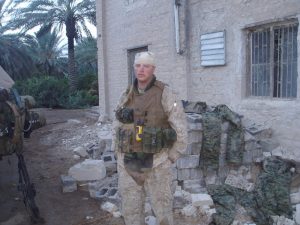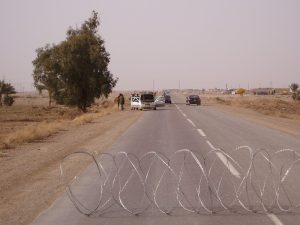 Battle Brothers on a Mission to Reunite
The two battle-brothers, who had not seen each other or spoken in person for 10 years, were on a path to be part of the Tee It Up for the Troops REUNION outreach program – a mission to reunite combat veterans and use their common bonds to work through post-military struggles after combat action.
Since the early years of the war on terrorism, Tee It Up for the Troops has been helping post-9/11 military veterans, and veterans from all other conflicts, and their families through the REUNION outreach program. The REUNION program reunites wounded and injured service members who have been separated due to battlefield injuries or other reasons beyond their control. Through these reunions, participating veterans and their caregivers can enhance their transition process into civilian lifestyles and enjoy therapeutic time on the golf course and participate in some educational, healing breakout sessions.
REUNION Outreach Program – Finding Each Other and Themselves
"Ben is the only battle buddy I tried to stay in contact with," said John. "When I had the opportunity to attend REUNION in 2016, I was like 'WOW'…this would be pretty cool to see how he's doing in person."
"When I got the call from John about attending REUNION, I was pretty shocked," Ben said. "Because some of my injuries were bone and nerve-related, I was on pain medication for the better part of a decade, and I was getting very discouraged. I had withdrawn from a lot of things and hadn't had a lot of people, especially Marines, to talk to. I was also going through my second divorce at the time. It was a big morale booster to have John reach out to me about REUNION."
In January 2016, at Reunion Resort in Kissimmee, Florida, Ben and John finally got a chance to see each other again at the REUNION Event, after the traumatic firefight 10 years earlier and the quick evacuation that took them in different directions for recovery and life after war.
With life in disarray, Ben came to REUNION very introverted and guarded. "Being at REUNION, made me realize that my isolation was self-imposed," said Ben. "If I put out a little effort to connect with others, I could find a few resources to help with coping that were healthier than the ways I had chosen. REUNION was enormously beneficial."
John added, "Seeing Ben at REUNION was super emotional for me. It was an extremely positive experience for both of us." Both veterans will tell you that there is a certain level of comfort and familiarity being back with someone at REUNION that you shared a life-altering experience with.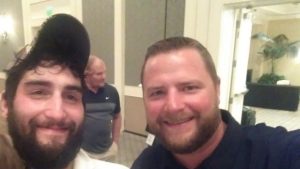 REUNION Changes Lives
After REUNION and getting off controlled pain medication, Ben had an inspiring transformation. He describes it as a "domino effect." He was able to file for and be awarded custody of his youngest daughter, Serena, 10, who now lives with him in the state of Washington. Ben enrolled in college computer information system courses and now has a job providing IT services and accounting for a livestock auction business.
Before REUNION, John went through months in a downward spiral where he was drinking heavily. It took a family friend taking him to dinner and intervening for John to see a therapist. His friend paid for ten therapy sessions and went with him to the first one. Now, John pays it forward and tells other vets to see and talk to a therapist. Through this process, he learned about Tee It Up for the Troops and the REUNION outreach program. Since 2007, John has been performing executive protection for Microsoft Corporation. He currently lives in Washington state with his wife Shannon, and two sons, Benjamin, 10, and Aiden, 8.
Now living in the same area, these brothers in arms meet up every few months and stay connected by messaging and Zoom. Due to the type of bonds and experiences they built while serving in the military, and reuniting at REUNION, they now realize that being connected is an essential quality of life marker.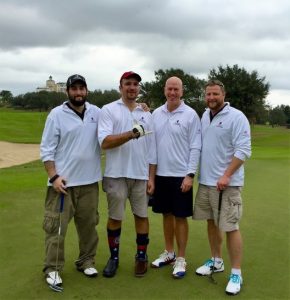 Show Veterans You Will Not Forget!
Frustrated with the line, "We will never forget," Ben's experience once he returned home from Iraq, was that people did forget all the veterans who risked everything. "Being at REUNION showed me that there are a lot of dedicated people actively spending enormous amounts of time and resources to help you reconnect and help with PTSD and other situations caused by war. It was just huge in my overall recovery."
2022 will mark the 10th Anniversary of the first REUNION outreach program held by Tee It Up for the Troops. The organization plans on commemorating the event by hosting a "Reunion of REUNIONS" and bringing together battle buddies again like Ben and John to continue their journey to recovery.
Tee It Up for the Troops relies on corporate sponsors and golfers to assist us in reuniting combat veterans and to help them transition from the battlefront to the home front. This includes help for the hidden wounds of war like anxiety, depression, isolation, and suicide.
Our sponsorship packages offer businesses, foundations, and foursomes an opportunity to gain exposure as outstanding supporters of combat veterans and their caregivers. We have developed sponsorships for differing budgets and commitment levels. You can also contact us to see if we can create a specialized sponsorship opportunity for you! Learn more about REUNION Sponsorship Opportunities.
Your Sponsorship Gets Veterans Back on Course!!