As part of the Tee It Up for the Troops mission, we honor, remember, respect, and support our nation's military veterans and their families. We accomplish this by raising charitable donations and awareness through our golf events across the country which support six core pillars of critical need as identified in the graphic below.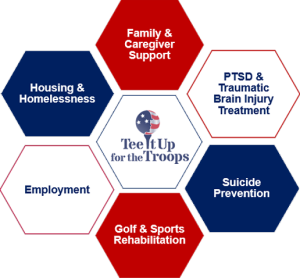 Each year, Tee It Up for the Troops selects non-profit partners that provide services to our warriors and their families in these critical areas and we award grants to these organizations. In 2021, Tee It Up for the Troops granted nearly $1.1 million in total, which includes half a million dollars in grants for 24 national veteran service organizations. This launched us over $12.8 million in charitable donations to national and local organizations to directly assist combat veterans and their families since our start in 2005. Thank you to all our supporters for making this happen!
2021 Grant Partners Announced
Tee It Up for the Troops is a "Force Multiplier" with a larger impact across the nation by working with many highly recognized veteran support organizations. We are honored to announce our 2021 Non-Profit Partners that received grants from Tee It Up for the Troops!
Family & Caregiver Support
Golf & Sports Rehabilitation
Salute Military Golf Association
North Texas Warrior Golf Association
Suicide Prevention
The Congressional Medal of Honor Society of the United States
Housing & Homelessness
Employment
PTSD & Traumatic Brain Injury Treatment
We jointly share a common vision with all 24 of these great non-profit organizations to assist military veterans, active-duty service members, and their families with a broad range of services.
Despite the ongoing challenges over the past two years, Tee It Up for the Troops was blessed to raise more funding in 2021 than we did in 2019, pre-pandemic! This generous support allows us to do even more to help combat veterans get back on course!
Along with our financial support and collaboration with these non-profit partners, we can make a greater impact across our nation for veterans and their families. At Tee It Up for the Troops, we strive to be a high-impact nonprofit that works with and through other veteran support organizations to create more impact than each of us could alone!
Learn more about Tee It Up for the Troops here.