Golf's Holy Grail
The excitement of the pursuit of golf's holy grail is the HOLE-IN-ONE. The VERY RARE hole-in-one – statistics say that the odds of two golfers playing the same course on the same day and both making holes-in-one is 17 million to 1.
Recently, our charity golf organization, which has been "teeing it up for veterans" for almost 20 years, defied those odds. For the first time ever, two holes-in-one were achieved on the same day at the Springhaven Club in Pennsylvania. This incredible feat was repeated a few weeks later at the Mt. Hawley Club in Illinois with two more golfers making holes-in-one!
But wait, this story gets better! Two of the players who aced the hole were military veterans and one of them WON A CAR!!
Mt. Hawley Club Event
Vietnam Veteran Joe Parmenter, 76, was participating in the Tee It Up for the Troops Peoria, Illinois event that benefits local veterans. Joe stepped up to the gold tees on hole number 9, his last hole for the day, and used a five wood and shot a hole-in-one at 168 yards.
"I have been playing golf since I was eleven years old and this was my first hole-in-one," exclaimed Joe. "I knew that I had hit a good shot but did not realize it went into the hole. The lady who was monitoring the tee box and my playing partners started yelling, 'It went in the hole. You got a hole-in-one!'," Joe said. Joe's ace won him $25,000 towards the purchase of a new car. "We have purchased our new car and are waiting for it to arrive," added Joe.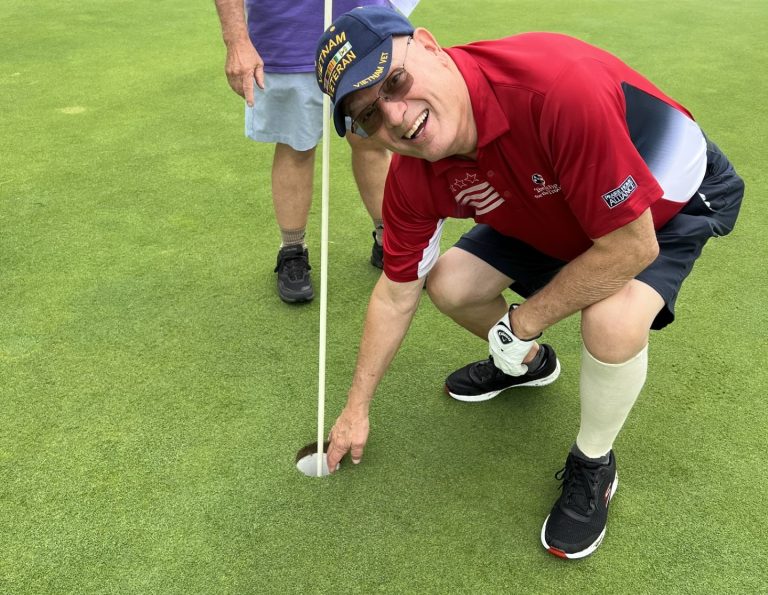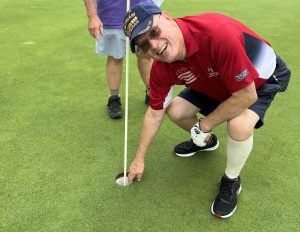 Joe still gets on the course about one to two times a week, however, because of health issues this was only his sixth time playing this year.
With 21 years of service in the United States Marine Corps, Joe achieved the rank of Senior Master Sergeant and retired in 2001. "I think the Tee It Up for the Troops event is a wonderful way for veterans to get together, meet other veterans, share stories, and have fun. It's a very well-organized and run organization," Joe said.
Participant Britt Bothast also made a hole-in-one at the Peoria charity event on hole number 17, 175 yards, using his 7 iron. This was the second year Britt had participated in the event and his second ace.
Springhaven Club Event
790 miles to the east at the inaugural Tee It Up for the Troops Springhaven Club event in Pennsylvania, Johnny Carpineta, 82, who served in the US Army from 1964-1968, was playing. Jonnie's ace came on No. 16 using a 9-iron with a distance of 120 yards. This was Johnnie's fourth hole-in-one.
Retired Army nurse Donna Woody, one of Johnny's playing partners that day, had just stepped up to the tee and hit a really good shot. She said to Johnny, "See if you can beat that!"
"I stepped up to the tee, really wasn't thinking of too much other than what a great day this was, and swung away," Johnny said. "After we figured out my shot ended up in the cup, I thought… well every squirrel gets a nut sometimes."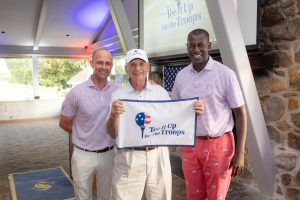 At age 64 Johnny obtained his PGA card and he plays in many military charity events.
"We had 14 members of the PGA Hope Program at the Tee It Up for the Troops event," said Johnny. PGA HOPE introduces golf to active-duty military and military veterans to enhance their physical, social, mental, and emotional well-being. "They were raving about the event. There were great gifts including a beautiful golf hat. It was just a fantastic day where these service men and women could forget all their pain, forget about who they lost and just have a good time," Johnny said.
Springhaven Club member, Tom Carroll, was the second golfer who made a hole-in-one at this charity event. Tom made his crowning achievement on the 13th hole at 170 yards.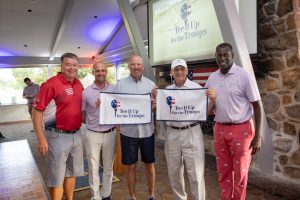 Congratulations to All
A hole-in-one is a miraculous feat. Congratulations to all these patriotic golfers for their great accomplishments! Raising funds to help wounded warriors heal and have hope is an incredible feat and achievement too! Thank you to all those involved in the Springhaven Club event and the Mt. Hawley Club event for your dedication and support of veterans!