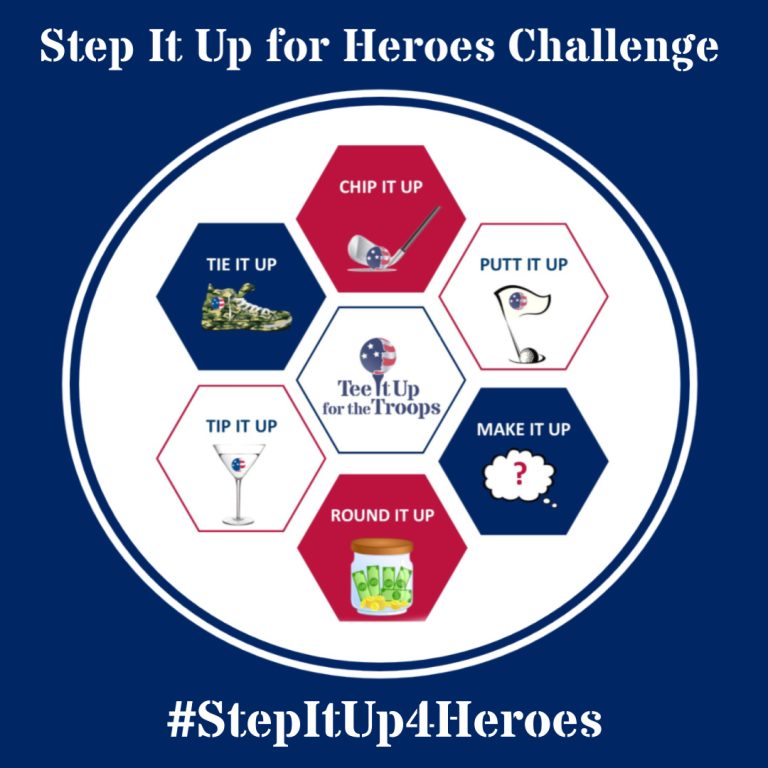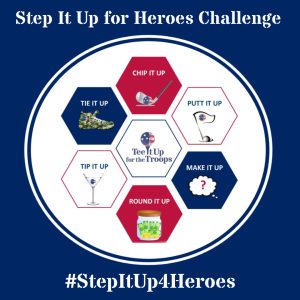 With COVID restrictions and a threat of nasty tropical weather, yet an unwavering mission to surpass goals and remain innovative, the Dataw Island Community in South Carolina adjusted, adapted, and achieved during their full Veterans Week of charity fundraising golf events to support disabled veterans!! Due to their perseverance and creativity, Tee It Up for the Troops would like to announce that Dataw Island is the 2020 WINNER of the #StepItUp4Heroes Challenge! This challenge was issued at the on-set of the COVID pandemic when many events were canceled causing the loss of critical fundraising dollars for our American heroes. Congratulations Dataw Island for making a positive difference for our disabled military veterans and their families who STEPPED UP for our freedom!
Dataw initiated a new event this year-The Big Break Dataw Golf Challenge-which had holes set up a little differently and offering unique challenges on two of their courses, the Cotton Dike and Morgan River. With hole names such as "Maintenance Forgot Their Tools" and "Alligator Hole" players' skills were surely challenged! The Big Break Challenge was a fun and innovative way to bring some new excitement to this fundraising classic!
The week-long event kicked off with the One-Man Marathon Golf Tournament and was proclaimed by the Governor as "Tee It Up for the Troops Day" across the state of South Carolina. Hundreds of people showed up or donated in support of veterans who are wounded or disabled and was led by Dataw Island's Head Golf Pro, Chris Fearn, who completed the one-man golf marathon in one long day. Chris teed off at 3:30 am and played until dark in order to raise money for veterans through Tee It Up for the Troops.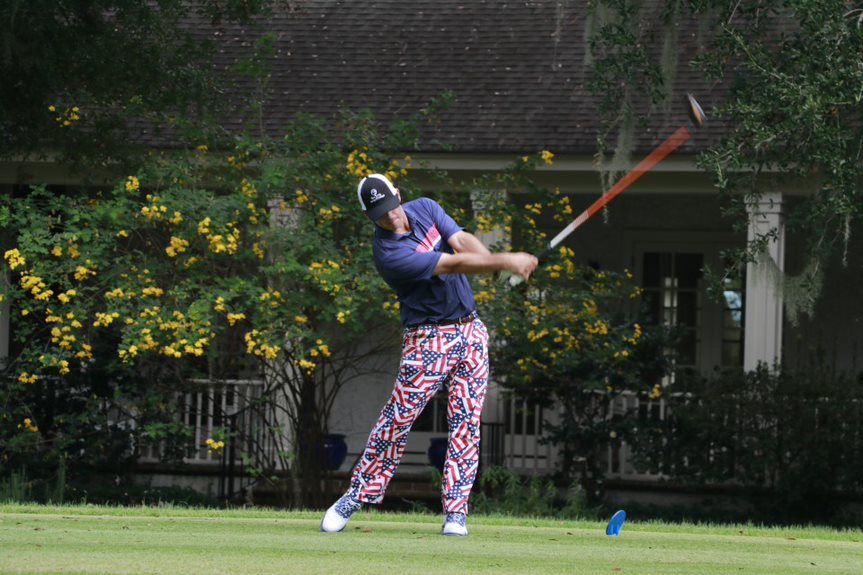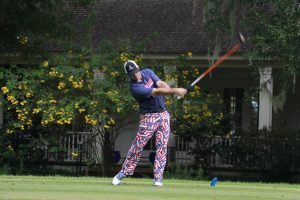 Last year, Fearn played an amazing 251 holes of golf before raising over $35,000. This year, once all pledges are collected, Fearn will raise more than $40,000 bringing his seven-year total to $200,000! Fearn was able to complete an astounding number of holes (253) with great strokes (55 birdies and 2 eagles) to break his record!
Supporters, primarily members of the private gated community of Dataw Island where Fearn works, pledge their choice of a per-hole amount or a flat amount, with the per-hole serving to encourage Fearn to complete as many holes as his body and daylight can allow. Each birdie and eagle he makes also increases the take, so playing fast and accurately are both goals.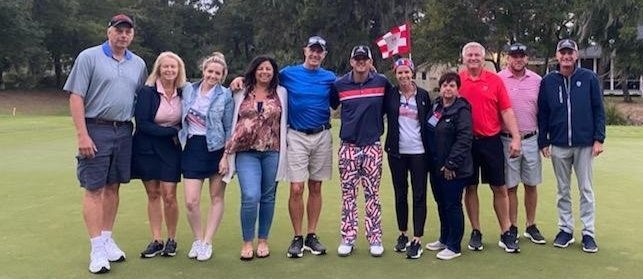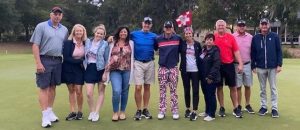 "I have to admit," said Fearn, "Waking up at 2:45 am and knowing that I'm about to play golf for 14 hours straight, with the first three-plus hours in the dark, is a little daunting, but it's still a lot of fun since I know it's for a great cause. Having members and veterans there cheering me on is really what keeps me going. Although it takes me a few days to recover afterward, it's a small sacrifice that I'm happy to make in the make of Tee It Up for the Troops."
In years without COVID restrictions, the Dataw Island's Veterans Week celebrations are more complete with activities such as the flag brigade, a veteran's march & rally, a veteran's breakfast, and veterans' lunch, and guest bartenders. However, this did not hold them back from modifying and "Marching On!" Since this year's guest of honor was unable to speak in person, a wonderful video was shared. From Roy Brown, Jr. (AKA "JR") of Ridgeland, SC about his passion for helping veterans.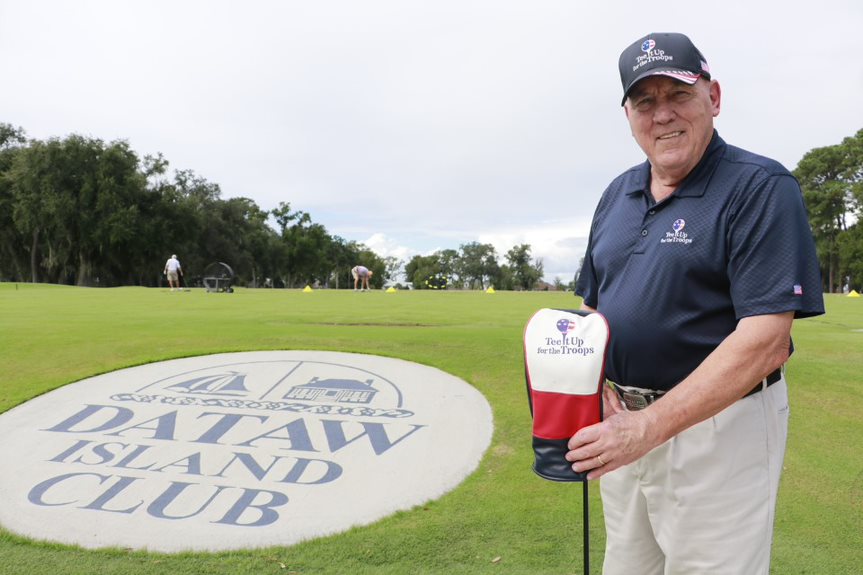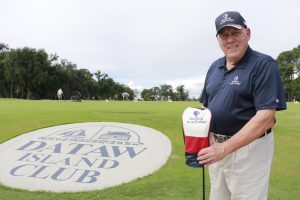 Event Coordinator, Col. Glenn Blackburn, Ret. US Army, says that the Dataw Island partnership with Tee It Up for the Troops has made this charity event a nationally recognized fundraiser. "The support that Dataw Island shows each year for local and national non-profit service organizations is tremendous. Through sponsoring golf holes at our Veterans Classic, Head Golf Pro Chris Fearn's golf marathon, and the raffle, residents show amazing support for our wounded and disabled veterans."
Tim Wegscheid, President and Executive Director of Tee It Up for the Troops, said "Dataw Island's Veterans Week traditions, take hard work, imagination, and dedication and we are so grateful for the folks in the Dataw community and local supporters who back our veterans and country. Each year, this wonderful community puts on an amazing display of patriotism and fun golf events! Thank you for your loyal support of our disabled veterans and their families!"
Tee It Up for the Troops salutes event leader Col. Glenn Blackburn, Ret. US Army, Head Golf Pro, Chris Fearn, and the residents and staff of Dataw Island for making Veterans Week 2020 a huge success! Your ability to persevere during COVID and press on given any obstacle in your way to help military veterans and families is astonishing!