Thousands of employers nationwide offer employees the opportunity to match their charitable gifts. Matching gift programs are one of the wisest ways to increase the value of your donation.Matching gifts are corporate philanthropy programs that reward employees' charitable donations. Many corporations have matching gift programs and will match your donation to Tee It Up for the Troops, a military veteran support organization. It's an easy way to double or even triple the impact of your contribution! Gifts from spouses and retirees may also qualify for an employer match.
These matches can add up for veteran support organizations if you know how to check if your company participates—especially considering that over 18 million individuals work for companies with matching gift programs.
See if your employer will match your donation by searching for your company name here in our Matching Gifts Tools.
How Do I Apply
For
a Matching Gift?
The process is quite simple and quick. To make a matching gift, first, go to the Matching Gifts Tools and search to find your employer. If the company is in our database, select it and you will see the specific instructions and charity donation eligible amounts for your company's matching gifts process. Next, you make the initial donation. Then you submit a matching gift request, usually through an online giving portal for your company. It takes a few minutes to request the matching gift from your employer.
Why Do Companies Match Donations?
More and more companies are offering corporate matching gift programs to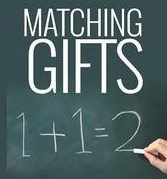 prioritize corporate social responsibility or CSR. Companies of all sizes match donations their employees make to local charities because it's an easy, structured way for them to support good work in their communities. Here are a few more reasons companies participate in matching programs:
To support employee and retiree investments in

charitable

organizations

To empower employees and retirees

To enhances the economic vitality of communities
Why Are Employee Matching Programs Important?
The program is a win-win-win situation for everyone involved. You get to see your donation go twice as far. Veteran support organizations like Tee It Up for the Troops receive twice as many donations for military veterans without asking for another contribution. Your company helps out veteran support organizations like Tee It Up for the Troops that you are passionate about. Through these matching programs, businesses match an employee's donation to double, or sometimes even triple, the impact.
Don't
Miss a Matching Gift Opportunity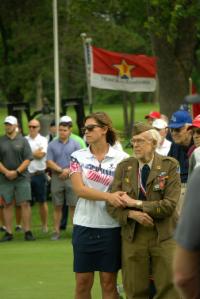 Many employees are not aware that their companies offer matching gift programs. Over 75% of eligible donors don't know that they work for companies with matching gift programs. Unfortunately, only 7% of donors who work for matching gift companies successfully submit a matching gift request. This means that $4-7 billion in matching gift revenue goes unclaimed each year. That kind of money could make a monumental difference for disabled American Veterans. Imagine the impact you could make for veteran support organizations!
How
To
Start Multiplying Your Donation Today!
Please take a moment to see if your company matches gifts HERE. A few minutes can double the donation you've already made and make a big difference in the lives of veterans and their families. Your donation brings vital services -mental health, suicide prevention, employment, recreation, housing, and family and caregiver support -to military veterans who urgently need support.
Tee It Up for the Troops is grateful for all donations, large and small. We appreciate your generosity!