The Opening Ceremony is a tradition at Tee It Up for the Troops events that pays tribute to American heroes who have, and continue to, put their lives at risk on the frontlines. This opening ceremony sets a patriotic tone to the day, honors our veterans and reminds everyone why they are a Tee It Up for the Troops event. It is an opportunity for sponsors, participants, and all in attendance to celebrate patriotic pride.
Our military is built on traditions, customs, and manners, and so too are our military charity events. It's valuable for everyone to learn about these traditions and customs that have become part of Tee It Up for the Troops opening ceremonies. With the 530+ events that have been held in over 40 states, each Tee It Up for the Troops opening ceremony is uniquely planned by each local community planning committee. While no two opening ceremonies are ever the same, below are the elements and their meaning that you might find at a typical opening ceremony.
Bagpiper: Many of our ceremonies start with a bagpiper in a traditional Scottish kilt playing and walking up the first fairway toward the attendees. Bagpipes have become associated with U.S. military memorial services, retirements, or changes of command on account of their connection with Scottish martial history. As early as the 14th century, Scottish warriors used musical instruments—mostly horns—to intimidate their English adversaries.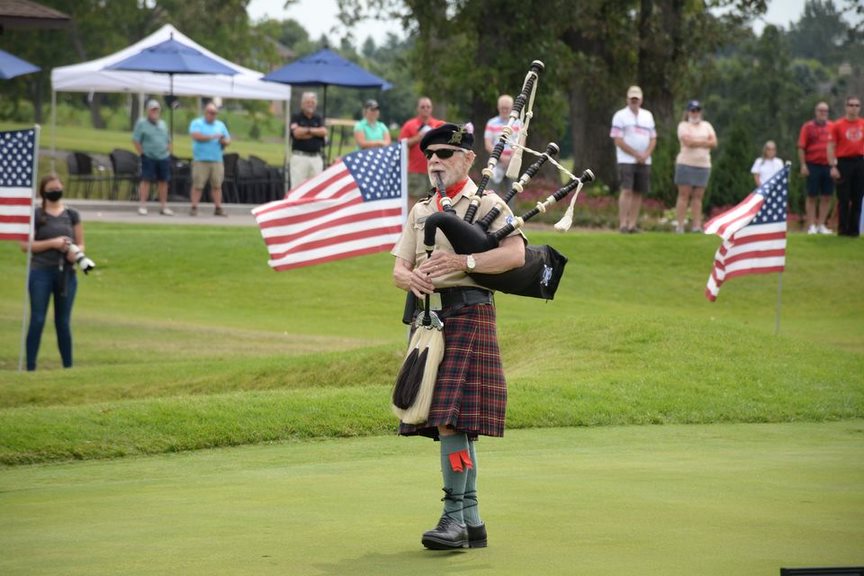 Invocation by Military Chaplain: An invocation prayer or request for the spiritual presence and blessing of God in the event.
Soloists to sing National Anthem and God Bless America: We all know the great tale of our national anthem being written in the wake of battle with the British in 1814, but did you know God Bless America was written by a Russian immigrant serving in the US Army during the first world war? None other than Irving Berlin—one of the most successful and beloved American songwriters of the 20th century—penned this tune to celebrate the nation he loved dearly.
Presentation of Colors by Honor Guard / Color Guard. While we no longer carry colors into battle—during which they served a crucial communication function—the presentation of colors ceremony still plays an important role in keeping national and unit traditions alive.
Moment of Silence: The moment of silence is a time-honored tradition to create a space for reflection and respect—and there's plenty of that to go around during a Tee It Up for the Troops opening ceremony honoring our nation's heroes.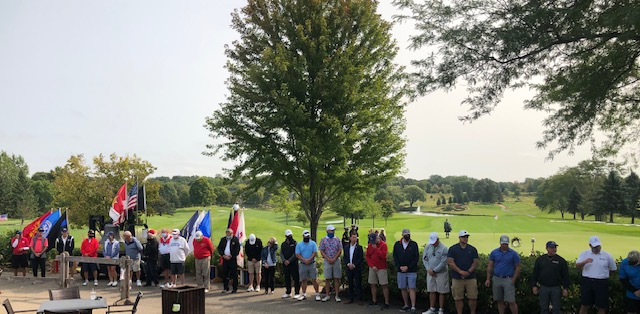 Rifle Volley: Typically done in three volleys by an odd number of members, rifle and other gun salutes are common across the world for honoring servicemembers, royalty, and foreign dignitaries.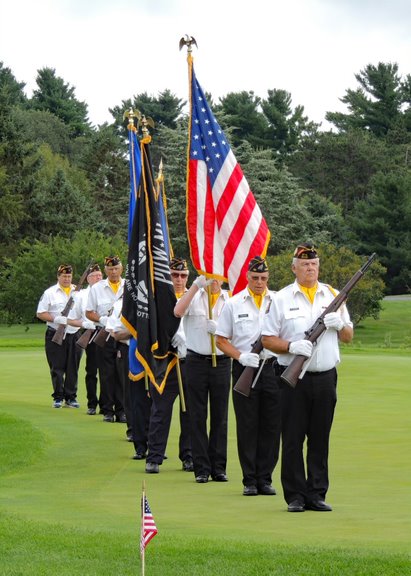 Gold-Star Family Recognition: Gold Star Families are relatives of US military members who have died in battle. A wreath is laid at the ceremony and attending parents, spouses, children, or other family members can carry a rose to lay on the wreath.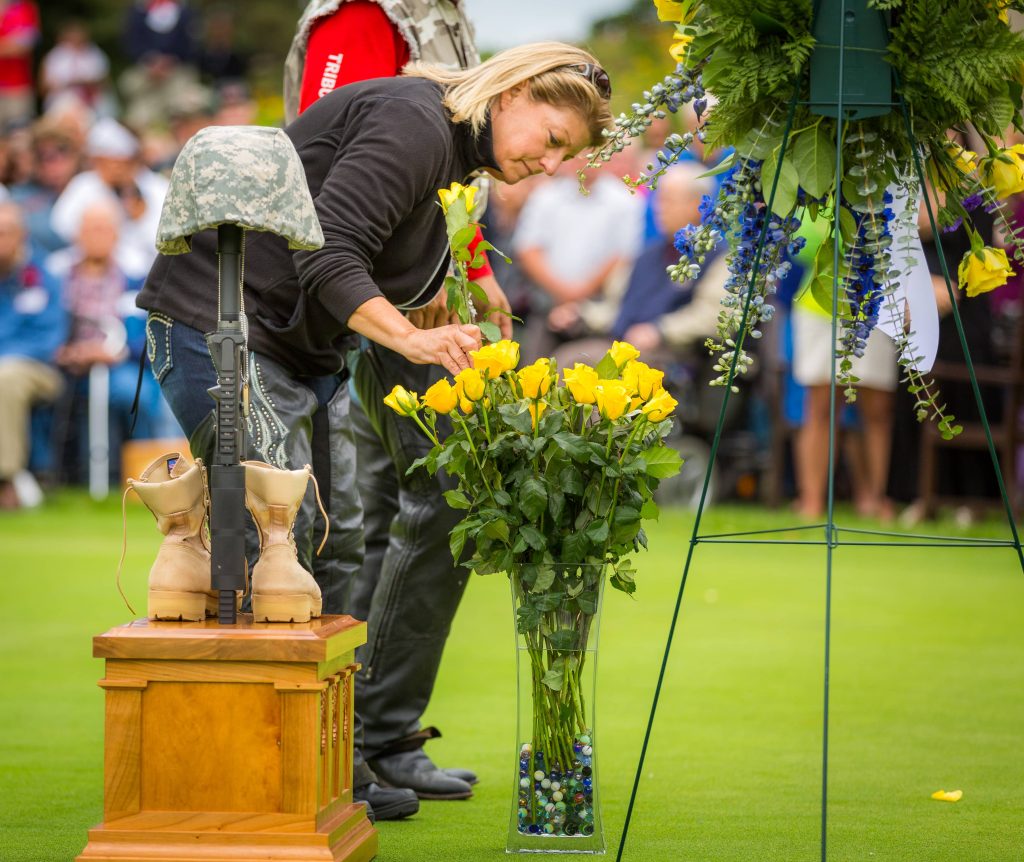 Honoring Veterans in Attendance: All attending veterans are recognized and honored for their service during the ceremony.
Taps: Often played at military funerals and other events like wreath laying ceremonies, this bugle call (it's not a song) has its origins in the Civil War.
Retire the Colors: Retiring the colors marks the end of the ceremony, during which the color guard retrieves the colors and removes them respectfully.
Some of our events have additional symbols and demonstrations of patriotism that pay tribute to American heroes who continue to put their lives at risk on the frontlines.
Static Displays: military vehicles, fire engines with U.S. flags at the entrance or on a hole.
Helicopter or parachute landing to mark the start of the ceremony.
Video Link / Teleconference of deployed units.
Patriotic Motorcycle association riders: Some riders participate in the ceremony by holding US Flags around the staging area.
White Dove Release: White doves are a widely recognized symbol of peace and hope. A white dove release incorporates this powerful symbol into the ceremony honoring our veterans and what they've fought for.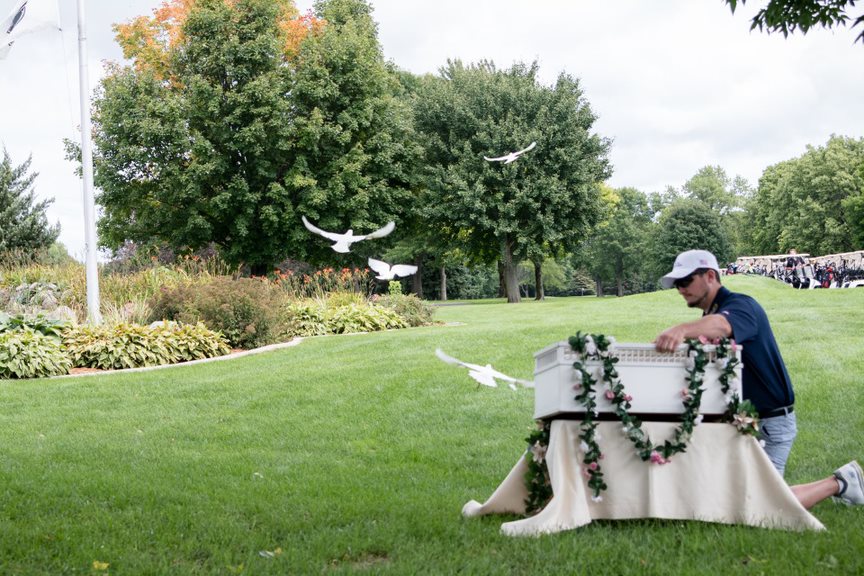 Bald Eagle on display: The Bald Eagle became the national emblem of the United States of America in 1782. The fierce beauty and proud independence of this great bird aptly symbolize the strength and freedom of America, that same strength and freedom that is found in the United States Armed Forces.
Flyover: The first military flyover took place during the 1918 World Series. Today's military flyovers serve to promote and honor our armed services. The missing man formation is an aerial "salute" performed during a flyover and is typically in memory of a fallen pilot, a well-known military service member, or veteran.
At the 2020 Tee It Up for the Troops Rochester event in Minnesota, the opening ceremony began with two Navy SEALs parachuting onto the fairway at the Rochester Golf and Country Club. Holding the American flag between them, the two SEALs dropped from the sky and made this ceremony especially powerful for the crowd—and the local Gold Star mothers—present.
"It really defined what Tee It Up for the Troops is for," says Mike Pruett, who helped to organize and record the Rochester event. "For our military, our fallen—respecting them, showing our respect and support for our troops." Having two SEALs conclude the opening ceremony reinforced one of the core principles of Tee It Up for the Troops—that servicemembers can often be the best support for their comrades. No one knows better than a fellow soldier what it's like to put your life on the line to serve your country.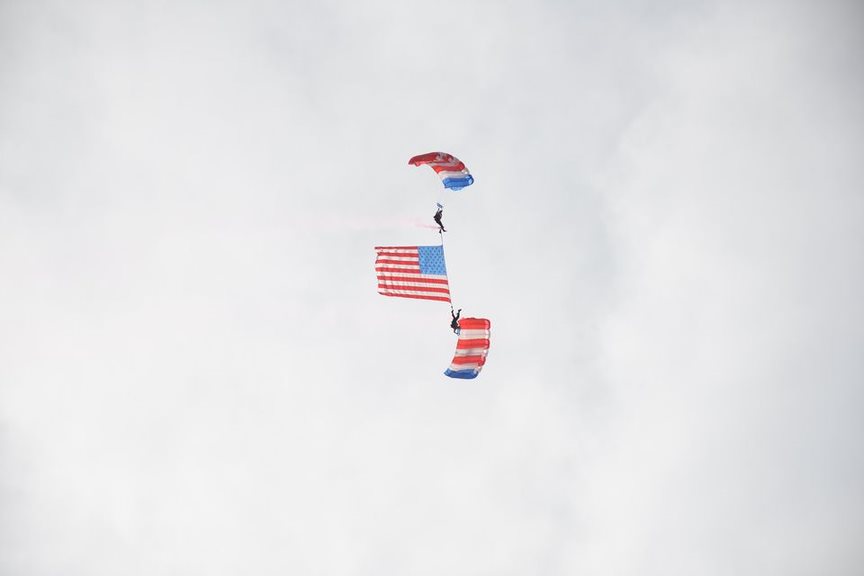 Opening ceremonies at Tee It Up for the Troops events are one-of-a-kind experiences. Without pretension, with utmost respect and dignity, they're a chance for your community to honor veterans in your own unique way. Communities across the United States have gathered to support our troops. Get together with your community today to start planning your own event!
Start an Event: We'll help you set up your own community event to raise funds for our veterans.
Find an Event: Tee It Up for the Troops events happen in almost every state! Find one near you today and participate!
Donate: Donate to support our innovative REUNION program, which pays for combat veterans to reunite with their old comrades to help overcome the hidden wounds of war.