As a veterans charity, we here at Tee It Up for the Troops are honored to support groups like The Warrior's Journey. The Warrior's Journey works with veterans to build their faith and work towards healthy relationships, family life, and mind. A faith-based organization, the Warrior's Journey also uses faith and relationships to help equip its members with the tools they need to tackle the problems life throws at them.
The Warrior's Journey – Helping Warriors since 2016
In 2019, we granted $15,000 to The Warrior's Journey that they used to further their mission in bringing faith to both active duty and retired military (Warriors). How they achieve this is through their comprehensive website, which is an interactive online resource. This website allows individuals to read articles as well as watch videos about other warriors to understand what they went through and how The Warrior's Journey helped.
They can also communicate with trained connectors who are there to help Warriors find any help or information they may need about making the next step. Warriors will also be connected with resources, organizations, and ongoing support to ensure they can continue their journey into faith. Warrior's Journey connectors also work to help Warriors find a local church so they can grow their communal support network.
The Warrior's Journey Golf Classic – Stay Tuned!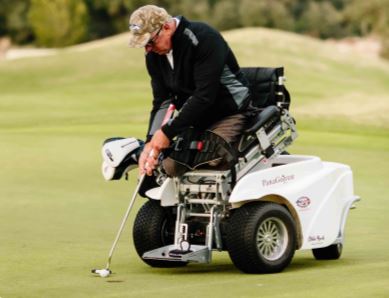 With this partnership, The Warrior's Journey was able to launch the first annual The Warrior's Journey Golf classic with Tee It Up for the Troops in 2018. The golf classic raised local awareness of the needs of the military community as well as funds for the faith-based organization. Thankfully, because of the partnership we have with The Warrior's Journey, we are excited to announce this year's event: The Warrior's Journey Golf Classic in partnership with Tee It Up for the Troops- Highland Springs Country Club, Springfield, MO, on October 26, 2020.
The golf classic is a way for people to have fun while remembering the sacrifices our military heroes and their families make every day. This event will start with an amazing ceremony and tribute to our military and the wonderful nation they serve. The day will conclude with an auction to raise money for our remarkable American heroes. Our sponsors, other golfers, and the veterans will all get to partake in an amazing day out on the beautiful greens.
The Warrior's Journey + Tee It Up for the Troops
The donations received at this event and in general are crucially needed. These funds help combat veterans who are suffering physically, mentally, and emotionally to overcome and persevere through their everyday struggles. Proceeds from this event will also help the Tee It Up for the Troops outreach program "REUNION" which is designed to reunite combat veterans with their comrades from the battlefield.
Whether it's your friend, acquaintance, or family member, assistance is available from The Warrior's Journey. This support for our heroes is crucially needed, and we encourage you to come to our events and help raise proceeds for our American heroes and their families.
If you're not in the area for this fall's Warrior's Journey Golf Classic, worry not! Find an event near you today—or consider starting one yourself!