His last deployment to Afghanistan changed his life forever. Here is the story of Staff Sergeant Nick Bradley and the bond of combat buddies.
The unthinkable happened for 25-year-old United States Air Force Staff Sergeant Nick Bradley on Sunday, Aug. 3, 2008. As Bradley's Land Cruiser reached a bridge, it was blasted by a 20-pound anti-tank mine IED that two Taliban in a nearby village remotely detonated.
Bradley stayed in the truck through the explosion. Once the truck came to rest, the door was blown off, and an unconscious Bradley fell out of the vehicle face-first into a 9-foot culvert. He woke up in that ditch minutes later, unable to see, unable to move, and unable to reach his radio.
"I was helpless. I didn't know what was going on, or if I was going to make it out of there," Bradley said.
Bradley was part of the 96th Security Forces Squadron, a personal security detail for officers, out of Camp Eggers in Kabul, Afghanistan. After the explosion, the convoy that had been traveling together followed protocol and had to evacuate with the VIP they were protecting.
About 10 minutes later, Technical Sergeant Garrett Knight, who also was in the Security Forces Squadron, made his way back to Bradley who lay badly wounded.
The way the vehicle looked and with silence coming from Bradley's radio, Knight was losing hope as to what he may find. "Once we actually made our way back and found Nick in the ditch, it was such a relief to see him alive," said Knight. " In any other situation besides war, I may have just broke down in relief. Seeing how it was war, there was no time to get emotional."
"I heard this guy come up to me in the ditch," Bradley said. "I asked him how I looked…like that was important ya know. To me, I looked great. And then he duct-taped my nose back on my face. I tell ya what, you don't have real friends unless they duct-tape your nose back on your face!"
Knight continued working to patch Bradley up and got him into a Medivac within an hour.
"Garrett stayed with me as they flew me to a base in Afghanistan where I was put in a nine-day medically induced coma and underwent 11 operations just to get me ready for transport," said Bradley. "They flew me from there to Landstuhl, Germany for another surgery. Garrett stayed with me all the way to Germany, then a general wouldn't let him fly any further. He had to turn around and go back to Afghanistan." Bradley was finally flown to Walter Reed Army Medical Center in Washington, D.C.
Challenges Faced
Bradley quickly learned how large a challenge he faced.
The duct-taped nose was just a small part of his challenges. Doctors told him the explosion caused complete facial fractures. Bradley has 20 screws and 14 plates in his face, along with shrapnel in his face and eye. Every bone in his right arm was shattered, requiring 52 screws. His right hand was partially amputated, and he lost his left index finger. He had reconstructive surgery for a fractured hip and crushed knee, requiring more screws, and has a hole in his right shin. His right foot was crushed, which caused severe nerve damage, leaving that foot partially paralyzed.
More shattering than his injuries was learning that one of his combat buddies, Army National Guard Sgt. Jaime "Gonzo" Gonzalez, Jr., who was also riding in the same Land Cruiser, was killed in the explosion.
"He made the ultimate sacrifice that day," said Bradley. "I figure I couldn't complain because [Gonzalez] would have given anything to be going through what I was going through." Since 2008, Bradley has released balloons to honor his fallen comrade, Gonzo, on August 3, the day he celebrates his own "Alive Day."
The Road to Recovery
Laying in a military hospital bed he had plenty of time to think. "I started thinking about my family, how long it would take me to get out of the hospital, how long it would take me to walk, how long it would take me to play golf," said Bradley. Golf was a sport that he enjoyed and first took up a few years earlier. In the hospital, he waited until doctors weren't looking — and then he would stand up and practice on a makeshift putting green. "I needed to do it," Bradley said. "It gave me something to look forward to every day."
Golf has given him a release, helping him rebuild his muscles and body after the bombing and serving as a temporary escape from the divorce he went through after returning home.
When he was released from the hospital, his combat buddy Knight picked him up and continued to take care of his friend. Bradley moved in with Knight, who cooked his meals and took him to medical appointments and therapy. "But greater than that, he treated me like I was normal," said Bradley. "I needed a sense of normalcy." As the months went by, Bradley moved his game — and his recovery — out to the golf course.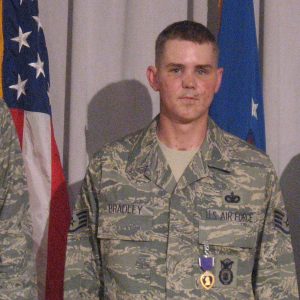 REUNION With Tee It Up for the Troops
This year in January, Bradley and Knight reunited at the Tee It Up for the Troops REUNION event in Florida.
REUNION is a special program reuniting combat veterans who were separated due to battlefield situations and helps with healing the invisible wounds of war. REUNION uses golf as a basis for a rehabilitative three-day event at the Reunion Resort and Golf Club in Kissimmee, Florida. Included in the program are separate workshops for warriors and their caregivers to discuss struggles and share tactics to help them survive and thrive at home.
"Thanks to Tee it Up for the Troops and REUNION, Nick and I were able to reconnect in a way we both needed," said Knight. "Most people will never understand the unbreakable bond war and tragic events create and because of that bond, face-to-face human interaction is needed. You would think trying to get two of the very best friends in the whole wide world together in one place would be easy, but in fact, it's not." Being able to spend a week at REUNION with Nick filled my cup and recharged my battery and for that, I'm ever grateful."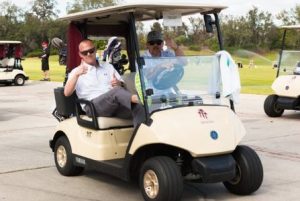 "Every year we try to get together but life sometimes takes over—school, kids, work careers—and it doesn't always happen," said Bradley. "REUNION is so important to many combat buddies like me and Garret. Without this event, we probably wouldn't even hang out, crack jokes, reminisce, and continue to grow that relationship."
"I heard the best quote today from a warrior while golfing and just having a good time," Bradley added. "It didn't matter what his score was or how he was playing, but he said, 'This is probably the most fun I'll have all year and it's only January 16th.' If that does not show the impact of REUNION, I don't know what would."
"To the sponsors and Tee It Up for the Troops team, I just want to say thank you from the bottom of my heart," Bradley said. "This is so important what you guys do each and every year at REUNION."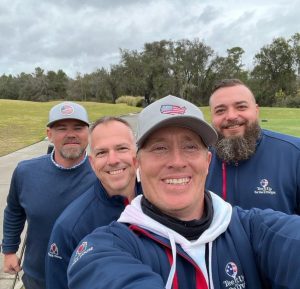 Getting Veterans Back on Course!
You can help us reunite combat veterans like Nick and Garrett. We rely on corporate REUNION sponsors and golfers to help these warriors transition from the battlefront to the homefront. This includes help for the hidden wounds of war like anxiety, depression, isolation, and suicide.
Learn more about how you or your company can get involved with sponsorship for this program: Tee It Up for the Troops REUNION
_________________________________________________________________
More Background on These Combat Buddies
Staff Sergeant Bradley
Staff Sergeant Bradley flew more than 200 drone surveillance missions for troops in the Middle East during his deployments. Bradley, who has received many awards, including the Purple Heart and Airman of the Year, medically retired from active duty in May 2009. He's a talented golfer who likes to play as much as he can. He's played in Tee It Up for the Troops events and the Warrior Open hosted by former President George W. Bush.
Bradley is still serving in a different capacity, Healthcare. For the past three years, he has been providing patients with their home care needs within the Dallas Fort Worth area. Bradley is married to Lindsey, and they have three daughters together.
Senior Master Sergeant Garrett Knight
With a distinguished 25-year military career, Senior Master Sergeant Garrett Knight is still on active duty. He is currently the Operations Superintendent for the 94th Security Forces Squadron in Dobbins Air Reserve Base, Ga. In this role, he leads, develops, and trains 60 Active Guard/Reserve and Civilian Defenders conducting the unit's home station mission. Additionally, he oversees all aspects of the day-to-day law and order and resources protection mission for 5,500 assigned total force Airmen, Soldiers, Sailors, and Marines.
Knight grew up in Fort Walton Beach, FL, and enlisted in the Air Force in 1997. He has served in several operations including Iraqi Freedom and Enduring Freedom. SMSgt Knight's many awards and decorations include the Defense Meritorious Service Medal, the Air Force Meritorious Service Medal, and the Joint Service Commendation Medal.