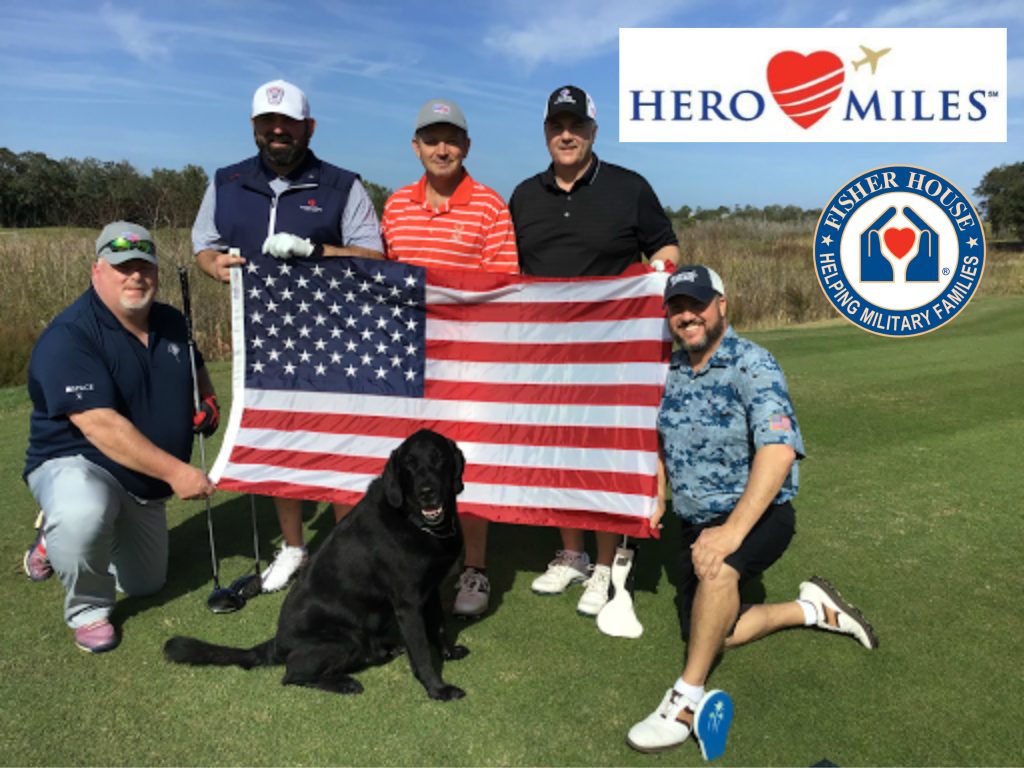 When Tee It Up for the Troops hosts its REUNION program in Florida each year to reunite combat service members, over 30 veterans and caregivers need flights to attend. This REUNION program is an expensive undertaking and Tee It Up for the Troops relies on support from many different sectors to assist us in delivering the benefits of helping attendees transition from the battlefront to the homefront.
Thankfully, in 2013, Hero Miles partnered with Tee It Up for the Troops and has since provided over 350 flights to ensure invited combat veterans and their caregivers are able to attend our REUNION event with no costs for flights.
The Hero Miles program (administered by Fisher House Foundation) provides round-trip airline tickets to wounded, injured, and ill service members – and/or their families or close friends – who are undergoing treatment at a military or VA medical center or who or who are attending an authorized event. Flights are made possible through frequent flyer mile donations made by individual airline passengers of participating airlines, or from donations by citizens. Many recovering service members cite reuniting with their fellow combat friends, like at REUNION, as a huge reason to fight hard to recover and never give up. For the Tee It Up for the Troops 2020 REUNION, 35 flights for our warriors and caregivers was made possible by Hero Miles.
"We are proud to partner with Tee It Up for the Troops by providing tickets through our Hero Miles program to help servicemembers heal," said Dave Coker, President of Fisher House Foundation. "Tee It Up for the Troops shares our belief that a family's love is good medicine. Their Reunion program brings combat veterans together, which for many servicemembers is an extension of their own family."
Operation Hero Miles is a collaborative effort between individual airlines including AirTran Airways, Alaska Airlines, American Airlines, Continental Airlines, Frontier Airlines, Midwest Airlines, United Airlines, US Airways now merged with America West Airlines; air travel passengers who donate their frequent flyer miles to service members and their families; and the Fisher House Foundation which administers Operation Hero Miles and turns frequent flier mile donations into free airline tickets for military men and women injured due to service in Iraq or Afghanistan, bringing the wounded and their families together.
Hero Miles does amazing work to help veterans and their caregivers in the most challenging of times. On behalf of all of us at Tee It Up for the Troops and the military veterans themselves, we'd like to give a heartfelt thank you to Dave Coker, President, Fisher House Foundation and Tish Stropes, Vice President of Strategic Initiatives, Fisher House Foundation and who is responsible for the Hero Miles and Hotels for Heroes programs.